Lipitor Lawsuits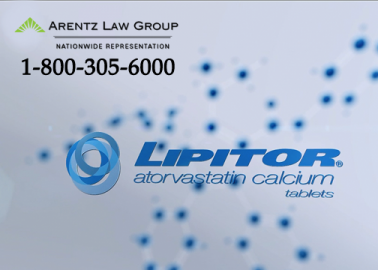 Lipitor lawsuits are currently under investigation by the attorneys at Arentz Law Group, P.C. after multiple patients have suffered serious side effects after taking this potentially dangerous drug. A popular statin, Lipitor has been associated with a number of severe and potentially fatal side effects, including type-2 diabetes, rhabdomyolysis (serious muscle damage), kidney damage, and liver damage. If you have suffered as a result of Lipitor side effects, you may be entitled to recover substantial financial compensation for your damages in a Lipitor lawsuit.
What is Lipitor?
Lipitor (atorvastatin) is made by Pfizer and was approved by the FDA in December 1996 for the treatment of high cholesterol. Lipitor is a statin, a class of drugs which helps reduce levels of "bad cholesterol" (LDL cholesterol) by preventing the liver's production of an enzyme necessary to the production of cholesterol.
Like other statins, Lipitor has been associated with kidney problems, muscle injuries, and diabetes. In 2012 the FDA mandated that the makers of Lipitor and other statins update safety labels to reflect a heightened risk of diabetes. The risk for developing Lipitor diabetes has been found to be significantly higher for women who use the drug: according to a recent study in the Archives of Internal Medicine, women who use a statin have a 48% higher risk of developing type-2 diabetes.
Lipitor Lawsuit Claims
Multiple individuals who have been harmed by Lipitor side effects have filed personal injury lawsuits in pursuit of compensation for medical bills and other damages. Common claims upon which Lipitor lawsuits have been based include:
Pfizer knew or should have known of the dangers of Lipitor side effects including type-2 diabetes, but continued to market the drug based on claims of its safety

Pfizer should have conducted thorough research into potential risks associated with Lipitor and should have fully informed the medical community and the public of these risks

Pfizer did not conduct adequate post-market research to learn more about Lipitor side effects after patients reported problems

If patients had been properly warned about Lipitor side effects, they may have chosen not to use the medication or they may have more closely monitored their health for signs of known Lipitor side effects
Free Lipitor Lawsuit Consultations
The Lipitor lawsuit attorneys at Arentz Law Group, P.C. are dedicated to helping victims harmed by dangerous drugs recover the full compensation to which they are entitled for medical bills and other damages. If you or someone you love has suffered as a result of Lipitor side effects, we encourage you to contact us to schedule a free Lipitor lawsuit consultation with an experienced lawyer.