Lipitor Lawyers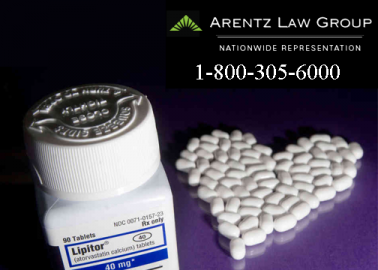 The Lipitor lawyers at Arentz Law Group, P.C. are aware of a number of very serious side effects associated with this potentially dangerous drug, and we are ready to pursue Lipitor lawsuits in all 50 states on behalf of innocent victims harmed by this medication.  In February 2012, the FDA issued a drug safety communication warning that Lipitor may cause liver damage, rhabdomyolysis, type 2 diabetes, and memory loss.  If you or a loved one has been harmed by Lipitor side effects, you could be entitled to substantial compensation for your damages.  To learn more about your rights, contact us to schedule a free consultation with an experienced Lipitor lawyer.
What is Lipitor?
Lipitor (atorvastatin) is made by Pfizer and is used to treat high cholesterol.    Approved by the FDA in 1996, Lipitor belongs to the statin class called hypolipidemics, which prevent the production of low density lipids (LDLs) in the liver.  LDLs, sometimes referred to as "bad cholesterol", can block the arteries so stopping the production of LDLs reduces a person's risk of developing heart disease.
Lipitor Side Effects
The FDA warns that, like other statins, Lipitor can increase the risk of muscle side effects such as myopathy and rhabdomyolysis, a condition that causes skeletal muscle tissue to atrophy.  When this happens, lost muscle mass (myoglobin) can build up in a patient's blood, leading to severe kidney problems and even death.  In addition to potentially fatal kidney damage, an accumulation of myoglobin in the blood can also lead to:
Nausea
Vomiting
Electrolyte disturbances
Coma
Confusion
Dark urine
Irregular heart rage
Internal blood clots
Severe cases of rhabdomyolysis may need to be treated with dialysis.
A study published in January 2012 in the Archives of Internal Medicine found a strong correlation between type 2 diabetes and statin use in women.  The researchers who conducted this study investigated 161,808 women between the ages of 50 and 70 and concluded that women who take a statin drug are up to 48 percent more likely to develop type 2 diabetes.
In February 2012 the FDA also stated that it was investigating numerous reports of memory loss in patients who took Lipitor for several years.
Contact a Lipitor Attorney
In a Lipitor dangerous drug lawsuit, victims of Lipitor side effects can recover just compensation for their physical, emotional, and financial damages.  If you or someone you love has suffered as a result of taking Lipitor, our attorneys have the knowledge, experience, and resources you need to build a strong case.  Contact us today to schedule a free Lipitor lawsuit consultation with a nationally respected attorney.