Skechers Shape-Up Injury Lawyers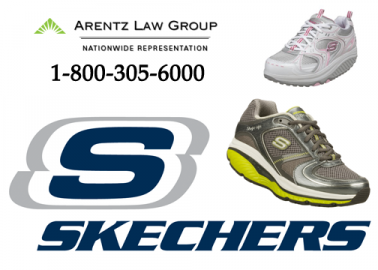 The Skechers injury lawyers at Arentz Law Group, P.C. are currently investigating claims by individuals who were injured as a result of the unsafe design of these shoes.  Skechers Shape-Ups are designed to change the way a person walks and were sold on the premise that this new way of walking would effortlessly tone leg muscles.  Not only were these shoes ineffective and falsely advertised, but they can also cause instability that has led to hundreds of falls and injuries.  If you suffered an injury as a result of wearing Skechers Shape-Ups, you may be entitled to compensation for your damages.  Contact a
defective products lawyer
today to learn more about your rights in a free legal consultation.
Skechers Shape-Ups Injuries
Skechers Shape-Ups are designed with a convex sole, which creates a sense of imbalance.  The effect is somewhat like walking on soft sand, and the selling point is that additional muscles will be stimulated to make up for the instability users experience when wearing these shoes, leading to more shapely and toned legs without a formal work-out.  Not only is there no scientific evidence that these shoes are effective, but hundreds of people have fallen or been injured as a result of wearing these shoes.  Our Skechers lawyers are familiar with a number of cases where wearers of these shoes suffered serious injury, such as:
Ankle injuries
Head injuries
Broken bones
Knee injuries
Hip injuries
Muscle strains or tears
Hamstring injuries
Achilles tendon injuries
Torn ligaments
Stress fractures
People with pre-existing balance problems, older wearers, and people who are severely out of shape are at an even higher risk of Skechers Shape-Ups injury.
Skechers Shape-Ups Lawsuits
If you have been injured while wearing Skechers Shape-Ups, you may be entitled to compensation in a dangerous products lawsuit.  If you are considering pursuing a Skechers lawsuit, here are some steps you should take:
Seek immediate medical help
Do not wear Skechers Shape-Ups again
Put the shoes away in a safe place—they could be important evidence
Retain the counsel of an experienced personal injury lawyer
Contact a Skechers Shape-Ups Lawyer
In August 2012, a $40 million settlement on behalf of the Federal Trade Commission was reached in a Skechers false advertising lawsuit.  As a result of this settlement, consumers are able to get a refund for their purchase of Skechers Shape-Ups.  However, more than 250 Skechers injuries have been reported to the Consumer Product Safety Commission, and this settlement does not address these injuries.  If you have been injured while wearing Skechers Shape-Ups, you may be entitled to substantial compensation for your physical, emotional, and financial damages.  To learn more about Skechers lawsuits,
contact us today
.