More Than 100,000 Johnson & Johnson Lawsuits Over Defective Products Stink of Corporate Corruption
March 31, 2017
By Emily Cox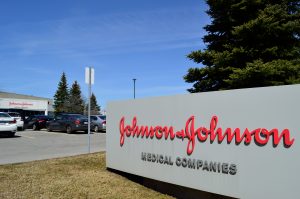 The staggering number of Johnson & Johnson lawsuits, alleging harm from product defects, suggests that the baby powder company does care but not about people. These lawsuits indicate the company was only looking after its financial interests instead of the consumers they purport to help.
In its most recent U.S. Securities and Exchange Commission Filings, the company indicated there are almost 103,000 Johnson & Johnson lawsuits pending against five of its products. This includes 54,800 pelvic mesh lawsuits; 18,500 Risperdal claims; 16,900 Xarelto lawsuits; 9,400 Pinnacle hip replacement claims; and 3,100 talcum powder cases.
In 2016, the company lost six of the seven largest jury verdicts in the U.S. over product defects. Comparatively, companies rarely have more than two to three product defect verdicts above $20 million in any given year. Johnson & Johnson lost six of more than $50 million. The company lost all three talcum powder cases that went to trial in 2016. These included verdicts for $72 million, $70 million, and $55 million. It lost two hip implant cases, as well. One was for $1 billion, and the other was for $500 million. It also lost the largest ever Risperdal verdict for $70 million. The previous record  was $2.5 million.
While these lawsuits are for different products, they all allege that the company knew that these products were dangerous but chose to conceal the risks to continue to profit from them.
Johnson & Johnson is facing at least 17 trials in state and federal courts this year against these products.
Johnson & Johnson Lawsuits – Overview
Pinnacle hip implant cases allege that the company's Pinnacle products fail, resulting in heavy metal poisoning, pain and additional replacement surgeries. Pelvic mesh plaintiffs claim the mesh erodes, necessitating additional surgery. Women with ovarian cancer are filing claims against the company's flagship baby powder and Shower-to-Shower products. They allege the talc in these products caused their illnesses. Boys who took Risperdal claim the anti-psychotic drug caused them to grow female breasts. Finally, lawsuits over Xarelto allege the blood thinner can cause uncontrollable bleeding, resulting in hospitalizations and even death. Lawsuits over Xarelto have more than tripled in the past year from 5,000 to 16,900.
In all these Johnson & Johnson lawsuits, plaintiffs maintain that company knew the risks of its products but refused to disclose them, putting their own financial interests before human lives.
Johnson & Johnson denies any product liability and is refusing to settle. This isn't necessarily because the company truly believes itself right. The longer it can draw out the process, the more likely of discouraging plaintiffs and whittling down claims.
Johnson & Johnson Lawsuits – DePuy Pinnacle Hip
The Pinnacle hip is a metal-on-metal hip replacement system. These lawsuits claim the friction from the metal components rubbing together results in the near-immediate systemic release of high level of toxic metal ions into patients' bodies. As of 2011, there were approximately 1,086 adverse events reports with the FDA regarding failures or complications from DePuy Pinnacle devices. Despite patients reporting severe pain, complicated revision surgeries, and life-long health problems, Johnson & Johnson continues to sell Depuy Pinnacle hip replacement components.
Johnson & Johnson Lawsuits – Pelvic Mesh
Pelvic mesh, or transvaginal mesh, and bladder sling products are used to treat pelvic organ prolapse and female urinary incontinence by supporting internal organs. Ethicon is one of about a half-dozen different manufacturers of these products, facing product liability, with more than 100,000 lawsuits, alleging serious harm from the devices.
The U.S. Federal Drug Administration has received almost 130,000 adverse event reports regarding pelvic mesh products for complications including nerve damage, organ perforation, vaginal scarring, infection, severe pain, and fistulas, as well as mesh erosion and migration. Mesh erosion is one of the most serious complications related to pelvic mesh. It occurs when the mesh device moves through the vaginal wall and into other organs.
Johnson & Johnson Lawsuits – Talcum Powder
Since 1971, more than 20 studies have generated evidence that there is a significant connection between talc and ovarian cancer.  In 1993, the U.S. National Toxicology Program published a study that showed talc was a carcinogen. Consequently, numerous organizations classified talc as a carcinogen in 2006. Due to this, Johnson & Johnson's talc supplier began including warnings with its talc shipments that same year. However, Johnson & Johnson still does not pass these warnings on to its consumers. In fact, the company specifically targets women to use it on their entire bodies, including their genital region.
Johnson & Johnson Lawsuits – Risperdal
Currently, there are several thousand pending Risperdal lawsuits against Johnson & Johnson involving the occurrence of abnormal breast growth in young men and boys as the result of taking the atypical antipsychotic. Plaintiffs claim that Johnson & Johnson and its Ortho-McNewil Janssen Pharmaceuticals subsidiary knew or should have known about the abnormal breast growth, also known as gynecomastia, risk from Risperdal and willfully decided to hide this side effect from the general public and the medical community, failing to protect the consuming public.
Johnson & Johnson Lawsuits – Xarelto
The current lawsuits against the popular blood thinners claim that the manufacturers failed to warn that clinical trials had shown more gastrointestinal bleeds and more blood transfusions with Xarelto than warfarin. Warfarin was the most popular blood thinner on the market before the introduction of Xarelto.
While manufacturers indicated that there was a bleeding risk, plaintiffs claim they were not warned that there was no antidote to Xarelto to reverse uncontrolled bleeding caused by Xarelto. Whereas, uncontrolled bleeding with warfarin can be reversed with vitamin K. Consequently, even mild bleeding incidents can become exceptionally dangerous.