American Students Name Trump in Suit Over Climate Change
February 13, 2017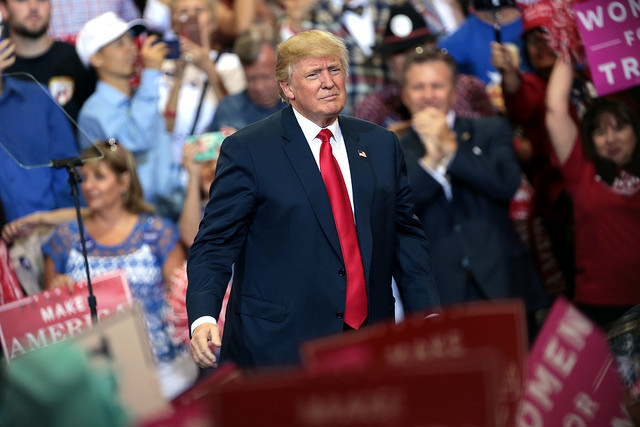 By Emily Cox
Portland, OR – In a primarily procedural move, President Donald Trump replaces former President Barrack Obama as a defendant in a lawsuit brought by 21 youth activists, questioning the constitutionality of the government's climate-change policy.
The students originally filed their constitutional climate lawsuit against the federal government in October
2015 in the U.S. District Court for the District of Oregon. The case, brought by 21 youths aged 9 to 20, alleges that the current climate change policy violates their constitution rights on a fundamental level by not protecting the planet's future.
Their complaint indicates that government actions have contributed to climate change, violating the youngest generation's constitutional rights to life, liberty, and property. It further asserts that these policies failed to protect public trust resources.
Dr. James E. Hansen, a world-renowned climate scientists, joins the youth activists as a plaintiff to protect "future generations and his granddaughter."
Former President Obama's administration and fossil fuel industry representatives filed to have the lawsuit dismissed this past year. But U.S. District Judge Ann Aiken denied the motion November 10, 2016, clearing the case for trial.
"Exercising my 'reasoned judgement,' I have no doubt that the right to a climate system capable of sustaining human life is fundamental to a free and ordered society," Judge Aiken wrote in her opinion and order.
The Washington Post reported on Mary Wood's reaction to the pending trial. Wood is a law professor at the University of Oregon and expert in public trust and natural resources law.
"It's been called the biggest trial of the century, and it is," said Wood. "Literally, when I say the planet is on the docket, it would be hard to imagine a more consequential trial, because the fossil fuel policies of the entire United States of America are going to confront the climate science put forth by the world's best scientists. And never before has that happened."
If the court finds for the plaintiffs, the federal government could be forced to develop and stick to aggressive carbon-cutting measures to preserve Earth's climate for future generations. A similar case resulted in a landmark ruling, the only one of its kind, requiring the Dutch government to cut emissions by 25 percent within five years.
Trump once signed an open letter, along with U.S. business leaders and liberal representatives, to President Obama and Congress, calling for immediate and aggressive climate action.
"Please don't postpone the earth," the letter stated. "If we fail to act now, it is scientifically irrefutable that there will be catastrophic and irreversible consequences for humanity and our planet."
The letter appeared in a full-page ad in the New York Times prior to the UN Climate Change Conference in Copenhagen in December 20
09.
However, Trump's strong opinions on climate change had shifted to the opposition by 2010. He has repeatedly spoken out against climate change since then, calling it a hoax and a con.
"The concept of global warming was created by and for the Chinese in order to make U.S. manufacturing non-competitive," Trump posted on Twitter back in 2012.
While Trump being named as a defendant in this constitutional case is mainly procedural, the plaintiffs said they were disturbed by Trump's expressions of doubt about the science behind climate change.
"I am hopeful that our case will reverse or prevent all damage our current president may inflict," one of the plaintiffs, Aji Piper, 16, said in a statement.
It is believed that the trial could begin later this year.