Deepwater Horizon Judge Approves $1.2 Billion Settlements
February 17, 2017
By Emily Cox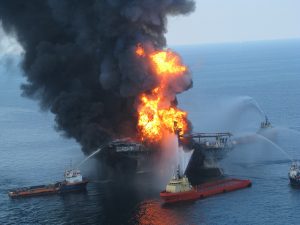 New Orleans, LA — The federal judge overseeing the multidistrict litigation (MDL) over the Deepwater Horizon disaster gave final approval to a pair of settlements Wednesday, committing Transocean Ltd and Halliburton Energy Services Inc. to pay a total of $1.24 billion.
In his order, U.S. District Judge Carl J. Barbier for the U.S. District of Eastern Louisiana declared the deals to be "fair, reasonable, and adequate." These settlements will pay about $903 million to a new, punitive damages class. Just over $338 million will go to an assigned claims class.
Judge Barbier decided that none of the eight objections made since the deals were originally approved in April were valid. Barbier held that none of them claimed that the deals were not "fair, reasonable, and adequate." However, he left the door open to revisit some of these objections in the future.
"The majority of objectors direct their concerns to the determinations under the New Class Distribution Model rather than the underlying New Class Settlement or the Distribution Model itself," he wrote in his order. "Because the New Class Claims Administrator's determinations can be appealed to this Court, the objections are premature."
Judge Barbier also released another order Wednesday with Transocean and Halliburton's agreement to pay up $125 million in legal fees. This is a fraction of the $555 million he ordered BP to pay in attorney's fees in October.
Both settlements resolve claims that BP PLC assigned as part of a $9.2 billion deal the company made with a class that alleged economic and property damage from the Deepwater Horizon disaster.
These settlements also apply to claims from a class that can bring claims under maritime law for punitive damages from the disaster.
Deep Water Horizon Disaster
On April 20, 2010, a blowout, explosion and fire occurred aboard the Deepwater Horizon, a mobile offshore drilling rig. The disaster led to eleven deaths, dozens of injuries, and millions of barrels of oil to spill into the Gulf of Mexico over the course of three months.
On August 10, 2010, the Judicial Panel on Multidistrict Litigation centralized all federal actions in the U.S. District Court for the District of Eastern Louisiana. Since then, the MDL has grown to several thousand cases with more than 100,000 claimants.