Mylan EpiPen Recall Goes Global
April 4, 2017
By Emily Cox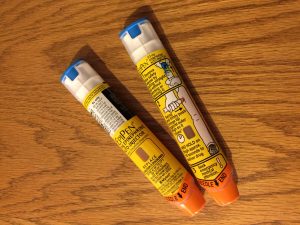 Mylan's voluntary EpiPen recall hits stateside and abroad this week, as certain models are failing to work properly and may not deploy life-saving medication effectively.
Last week, around 81,000 EpiPen devices were voluntarily recalled in seven different countries outside the U.S, including Japan, Australia, and Norway. However, now the EpiPen recall hits stateside with the latest announcement from the FDA. In its announcement, the FDA identified 13 lots of EpiPens in the U.S. that aren't activating correctly. This could be life-threatening for those who rely on the devices for severe allergic reactions.
Meridian Medical Technologies, which makes Mylan's EpiPen injector, issued the voluntary recall, which includes the children's version, EpiPen Jr.
"The potential defect could make the device difficult to activate in an emergency (failure to activate or increased force needed to activate) and have significant health consequences for a patient experiencing a life-threatening allergic reaction (anaphylaxis)," the company said in a statement.
The recall will also extend to Europe, Asia, North and South America. Mylan will replace the recalled EpiPens at no cost. Consumers can contact the company on Mylan.com/EpiPenRecall for updates on product return and replacement instructions
EpiPen Recall Comes at the Heels of Price Fixing Scandal
In 2016, Mylan came under fire for raising the price of the life-saving EpiPen allergy treatment by raising its price by 500%. Critics accused Mylan and CEO Heather Bresch of taking advantage of a virtual monopoly on the allergy treatment. Congressional and public outcry forced Mylan to pay a $465 million settlement and launch a cheaper, generic version of the injection drive. Rivals and regulators have been striving to get more injectors market to lower the market price for the devices ever since.
Mylan EpiPen Recall – Affected Lots
The 0.15-mg EpiPen Jr auto-injectors affected by the U.S. recall are:
Lot 5GN767, with expiration date of April 2017
Lot 5GN773, with expiration date of April 2017
Lot 6GN215, with expiration date of September 2017
The 0.3-mg EpiPen auto-injectors affected by the U.S. recall are:
Lot 5GM631, with expiration date of April 2017
Lot 5GM640, with expiration date of May 2017
Lot 6GM082, with expiration date of September 2017
Lot 6GM072, with expiration date of September 2017
Lot 6GM081, with expiration date of September 2017
Lot 6GM088, with expiration date of October 2017
Lot 6GM199, with expiration date of October 2017
Lot 6GM091, with expiration date of October 2017
Lot 6GM198, with expiration date of October 2017
Lot 6GM087, with expiration date of October 2017