State Farm Agrees to $250M Settlement in Judge Rigging Trial
September 5, 2018
By Emily Cox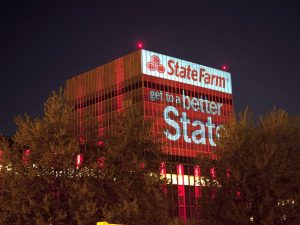 State Farm agreed to pay $250 million Tuesday to settle a lawsuit over the insurance company secretly working to help elect an Illinois Supreme Court Justice to overturn a billion-dollar verdict against it.
The deal was overseen by District Judge David Herndon from the bench, ending more than 20 years of litigation on the same day the trial was to begin.
The court had scheduled opening arguments to begin Tuesday, six years after plaintiffs filed the current Racketeer Influenced and Corrupt Organizations (RICO) Act class action, and more than two decades after a group of plaintiffs first came forward against State Farm, alleging the insurer violated policy contracts by refusing to replace crash-damaged vehicle parts with Original Equipment Manufacturer (OEM) parts in favor of less expensive replacements.
In 1997, a jury awarded a class of 4.7 million policyholders a staggering $1.186 billion, including disgorgements and punitive damages. However, the court later reduced this award to $1.05 billion.
Eight years later the Illinois Supreme Court would overturn the verdict entirely. This was done, in part, through finding that the issue of "uniform contractual interpretation" across State Farm policies was never adequately addressed during the class certification stage. However, plaintiffs indicate that State Farm in-house attorney William Shepherd helped coordinate a well-funded effort to get Judge Lloyd Karmeier on the state Supreme Court. Furthermore, experts further allege that the deceit went back more than a decade with the insurance company's outside counsel in regard to State Farm's connection to the Judge Karmeier campaign.
State Farm Strides to Get Karmeier on the Bench
Following oral arguments in May 2003, Judge Karmeier, a longtime Illinois circuit judge, won in a close race for a vacancy on the state's Supreme Court. It was the most expensive judicial election in US history at the time. Several months after he joined the bench, Judge Karmeier cast a decisive vote in State Farm's favor to get the billion-dollar verdict overturned.
Class action plaintiffs claim that, between the oral arguments and the court tossing the verdict, Shepherd, an in-house lawyer-lobbyist for State Farm's Bloomington headquarters, along with other State Farm insiders, recruited Justice Karmeier to run, covertly managing his campaign and donor network and concealing millions in donations through various groups, including the US Chamber of Commerce, to win the election for Justice Karmeier so that he could help the company overturn the massive judgement.
"Of course, there was no guarantee for State Farm that the appeal would not be decided before the [Karmeier election in November 2004] but the risk — a $2 to $4 million investment for a possible $1.05 billion return — was sufficiently minimal to make it a worthwhile gamble," the policyholders' 2012 RICO complaint stated.
Trial themes were going to include a complex money trail and emails that show Judge Karmeier was being kept up-to-date by defendant Edward Murnane about who was financing his campaign. Murnane was the president of the Illinois Civil Justice League. Shepherd founded this organization as a vehicle for State Farm's plan.
Rather than face the policyholders' allegations in court, State Farm reached the settlement just prior to opening arguments were to begin.