Judge to Consider Trump U Settlement Objection
March 30, 2017
By Emily Cox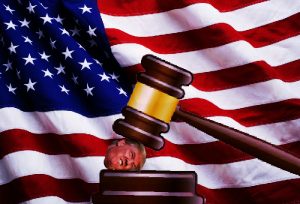 A San Diego federal judge will decide today whether to let former Trump U student opt out of the $25 million settlement and sue the president individually.
This may put President Donald Trump's settlement of the class-action lawsuit on hold. The lawsuit claims the president defrauded students of his now-defunct Trump U. While Trump admitted no wrongdoing, lawyers for the plaintiffs said that students would get 80 percent of their enrollment fees back under the terms of the settlement. However, former student, Sherri Simpson, wants a full refund plus interest and an apology.
On Wednesday, Simpson, a bankruptcy and consumer rights attorney, told The Associated Press that she thinks Trump should acknowledge wrongdoing and apologize. According to Simpson, her and a partner paid $35,000 to enroll in Trump University's "Gold Elite" program in 2010. The program promised to partner them with a mentor who would teach them Trump's secret real estate investment strategies.
Simpson said they got little for their money – videos that were 5 years old, other materials that covered information that could be found on the internet for free, and her mentor didn't return her calls or emails.
"I would like an admission that he was wrong, an admission that, 'Oops, maybe I didn't handle it as well as I should have, I didn't set it up as well as I should have, that I didn't maintain it or oversee it as well as I should have,'" Simpson told the Associated Press.
Trump U Settlement
Plaintiffs claim Trump misled customers. They allege he fraudulently called the unaccredited business a university. He also falsely advertised that he hand-picked instructors. Former Trump students have said that the "university" made the University of Phoenix look like MIT.
Trump vowed never to settle. However, after the election, he claimed he didn't have time for a trial. But he continues to maintain that he would have won. He reached the settlement 10 days before the trial was set to begin. The deadline to opt out was in November 2015. Thirteen people opted out before the deadline. None of these individuals have pursued separate lawsuits against the president.