Former Trump University Student Wants to Take the President to Trial
March 7, 2017
By Emily Cox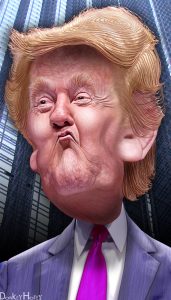 A Florida woman wants to drop out of the recent $25 million Trump University class action settlement and take President Trump to trial.
Sherri Simpson filed an objection to the November settlement Monday. Consequently, attorneys are saying that this could delay or endanger the entire settlement.
In April 2010, Simpson attended a three-day Trump University seminar. However, the follow-up Gold Elite course she bought was allegedly completely fraudulent.
"The Gold Elite program was a scam," Simpson alleged in her statement filed with the U.S. District Court in San Diego. "None of the promised resources were made available. The 'mentor' assigned to me disappeared and never returned my calls or emails."
Simpson paid $1,495 for the seminar. But high-pressure sales tactics pressured her to sign up for the $35,000 Gold Elite program under the premise that she would have access the resources of Trump and his real estate organization. However, she split the cost with another student. As a result, Simpson paid approximately $19,000 that her lawyers claim she could ill-afford.
While the settlement would only reimburse students approximately 50 percent of their tuition, lawyers representing the class-action plaintiffs say it is a "terrific settlement." They also suggested that the objection could result in delays for students who have waited years to get their money back.
"She could have excluded herself and pursued her own litigation," Patrick Coughlin, an attorney for the plaintiffs, said. "That time has passed."
Simpson's lawyers argue that a notice sent to students in 2015 implied they could request exclusion from the settlement later. However, the final settlement did not afford this opportunity.
Trump Never Admitted Fault for Trump University Scandal
While Trump agreed to pay $21 million for the two California class action suits and $4 million to the New York Attorney General, he never admitted fault of liability for the now defunct educational institute that former students claim made University of Phoenix look like M.I.T.
In fact, in a tweet posted back in November, Trump indicated he only agreed to the deal to avoid a trial as he prepared to take office.
"The ONLY bad thing about winning the Presidency is that I did not have the time to go through a long but winning trial on Trump U," Trump wrote. "Too bad!"
"This is absolutely unsatisfactory to her, " Gary Friendman, Simpson's lawyer, said. "She wants to take him to trial."
Friedman went on to say that Simpson would not accept any settlement without an admission of guilt.
"It's not opportunistic," he added. "It's not a hold up. It's not an attempt to embarrass anyone. My client just deserves her day in court."