By Emily Cox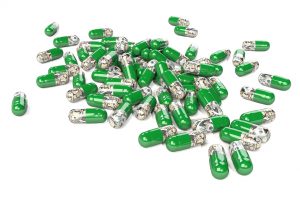 According to U.S. Department of Justice, a Rhode Island doctor pled guilty to an opioid kickbacks scheme Wednesday. He admitted to healthcare fraud and conspiring to receive kickbacks in exchange for prescribing an opioid fentanyl spray to patients who didn't have cancer pain.
Dr. Jerrold Rosenberg, 53, indicated that he participated in the opioid kickback scheme between 2012 and 2015. Allegedly, opioid manufacturer Insys Therapeutics paid Rosenberg a total of about $188,000 to prescribe the company's Subsys fentanyl product. Furthermore, he wrote a great deal of these prescriptions to patients without cancer.  Insys provided the illegal kickbacks under the guise of sham speaking engagements. The Justice Department said that Medicare at least partially reimbursed the cost of the drug in many cases.
"Patients trusted Dr. Rosenberg to make medical decisions based on the best available treatment, not based on speaker fees, kickbacks, and other financial incentives," the Rhode Island Attorney General said.
"He violated the law and his oath as a physician to do no harm when he placed greed over patient care, thinking little of the long-term consequences of patients taking this extremely powerful, highly addictive opioid."
Opioid Kickbacks Scheme Indictment
The Justice Department charged Rosenberg with 13 counts of health care fraud, one count of conspiracy to pay and receive kickbacks, and five counts of receiving opioid kickbacks. In his plea, he admitted to one count of health care fraud and one count of conspiracy to receive opioid kickbacks. However, his decision to negligently prescribe Subsys wasn't entirely for personal gain. His son was an Insys sales representative from 2012 -2013. His son also made commissions off his father's inappropriate prescriptions.
The FDA approved Subsys in 2012 to treat breakthrough cancer pain for patients. But, this indication is only for patients already receiving and tolerant of opioid therapy for ongoing cancer pain. However, Rosenberg blatantly misrepresented that patients were suffering from cancer pain when they weren't in order to secure insurance approvals for prescriptions.
The court has sent Rosenberg's sentencing for January 16, 2018. He could face as many as 15 years in prison and fines up to $500,000. However, Rosenberg has already agreed to pay $754,736 in restitution.
As the opioid crisis continues to embroil the nation, one has to consider how much of it was bought and paid for by pharmaceutical companies. Furthermore, how many of our doctors were bought and paid off in the process?