By Emily Cox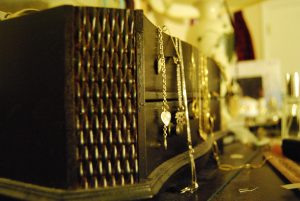 According to a new product liability lawsuit, when reports of the Birmingham Hip Resurfacing (BHR) system premature failing started flooding in, Smith & Nephew wasted no time in placing the blame on surgeons and even women's costume jewelry.
Lydia Constantini filed the complaint this past Monday in the Northern District of California. She claims that Smith & Nephew tried to cover up the metal-on-metal hip implant's defects. These defects caused metal-poisoning, pseudotumors, and premature failure of the device, requiring additional invasive surgeries for countless individuals.
In September 2008, Constantini underwent right hip resurfacing surgery. Doctors implanted a 50mm BHR femoral head with a 56mm BHR acetabular cup. Following the procedure, Constantini indicates that pain and complications led to hip revision surgery in December 2013 when the implant failed.
Her surgeons noted that there was evidence of metallosis. The release of cobalt and chromium metal particles into the blood stream causes this type of metal poisoning. The BHR system employs both of these metals. Smith & Nephew BHR failure also prompted the growth of a pseudotumor in Constantini's hip. This disrupted and compromised her abductor muscle, leading to additional pain and immobility.
Smith & Nephew Immediately Points the Finger for BHR Failures
When failure rates continued to escalate for the BHR system, Smith & Nephew finally conceded that there was problem… but not with the hip system. It immediately laid the blame on implanting physicians. However, the company never properly implemented an FDA-mandated training program. Widespread training of surgeons didn't even start until more than three years after the BHR system's release. The company admitted to the FDA that surgeons were implanting the device despite receiving absolutely no formal training on how to properly perform the procedure. Even then, many surgeons received training via satellite rather than hands on as the FDA had required. Smith & Nephew unabashedly used its own poor surgeon training protocol to hide the product's defects in order to continue to generate profits from the hip system even as it continued to harm more and more patients.
Studies invariably show that female patients are up to more than four times more likely to experience BHR failure in comparison to their male counterparts. In fact, one of Smith & Nephew's own paid researchers, Callum W. McBryde, performed a study showing a 4.68 times higher failure rate in female patients. Many companies would have tried to bury this information. Not Smith & Nephew. The company readily released the information along with an explanation for the high failure rate. The company asserted that the problem was unrelated to the implant. The problem was the patients and their "costume jewelry."
The company claimed that female jewelry use pre-sensitized women to metal artificial devices. Even before Smith & Nephew failed to provide any scientific evidence for this intriguing theory, it came off as desperate at best.
Smith & Nephew Lawsuits
Constantini joins a growing number of individuals, charging Smith & Nephew with strict product liability, negligence, breach of express warranties, fraudulent concealment, and negligent misrepresentation.
In May, the U.S. Judicial Panel on Multidistrict Litigation (JPML) centralized all BHR before District Judge Caterine C. Blake in Maryland. Experts expect that ultimately hundreds of these cases will join the multidistrict litigation to take Smith & Nephew to task.