By Emily Cox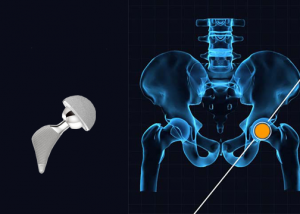 Patients fully expect hip surgery to be transformative…for the better. Greater mobility and freedom from pain ensure a new lease on life. A new lawsuit claims that Johnson & Johnson and its Depuy Orthopaedics unit designed a grossly defective hip implant that certainly transformed one man's life…into a series of painful, debilitating surgeries with no end to his suffering in sight.
Cory Paul Smits filed the complaint Thursday in the Northern District of Texas as part of the ongoing multidistrict litigation (MDL).  In late February 2016, Smits underwent left total hip replacement surgery. He had the misfortune to receive a Depuy Pinnacle hip. The defective hip would go on to steal 2016 from Smits, leaving only pain, suffering, and constant hospitalizations in its stead. Within a week, the defective hip failed, requiring revision surgery in early March 2016. Another revision surgery would follow a week later with a third in April 2016.
Following this surgery, Smits was given a small reprieve from his constant hospitalizations but not from his pain. Eventually, this pain would drive him back into anesthesia's hypnotic embrace. In November 2016, Smits underwent a fourth revision surgery to repair the defective hip. Finally, as the eventful year drew to a close, Smits hit the operating table one last time for his fifth revision surgery at the end of December 2016.
His yearlong dance with death has inexorably altered Smits' life. Instead of a new lease on life, Depuy sublet his life to the damage inflicted by its defective hip implant. Smit continues to suffer from loss of mobility and motion range, as well as physical and mental anguish. He indicates that these injuries are permanent. Furthermore, if the manufacturers hadn't hidden substantial design defects, he never would have chosen the implant in the first place.
J&J and Depuy Profited from Defective Hip, Knowing Patients Would Get Hurt
Despite being fully aware of how dangerous the defective hip implant was, manufacturers continued to market and sell the metal-on-metal implant, trafficking in patients' trust and profiting from their pain. Disregarding thousands of reports of serious complications from the implant, these companies continued to downplay the risks. Plaintiffs claim the defective hip injured them after friction from the device's metal socket and metal ball head released metal particles into their bodies.
If manufacturers had not concealed the device's known defects, early failure rates, complications, and risks, the companies would certainly be facing far fewer lawsuits from individuals like Smit who suffered unspeakable pain from the Pinnacle hip. Currently, almost 10,000 individuals stand against J&J and Depuy for their greed, negligence, and misrepresentations.
And, if early trial results are any indication, then the litigation does not bode well for J&J and company. A federal jury returned with a more than $1 billion verdict in the most recent bellwether trial in December 2016. In the trial, evidence of an $84 million deferred prosecution agreement J&J entered into to end an illegal kickbacks investigation held great sway over the jury. A witness testified that J&J paid the settlement to make a "headache" go away. This played a central role in the plaintiffs' closing argument. The jury's $84 million-per-plaintiff punitive damages award appeared to directly reflect this as well. The jury also awarded $32 million in compensatory damages to six hip implant recipients and some of their spouses. The previous bellwether saw damages of $502 million levied against the defendants. However, the court later reduced this to about $150 million.
Despite all evidence to the contrary, J&J steadfastly denies any wrongdoing. Denial…more like delusional.