By Emily Cox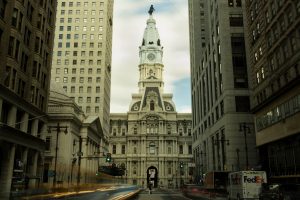 The latest in a deluge of cases alleging Johnson & Johnson's Ethicon unit designed dangerously defective vaginal mesh products got underway in the city of brotherly love Friday. The pelvic mesh trial jury heard arguments that a pair of the companies' devices permanently mangled a woman's urethra, leaving her incontinent.
This is the sixth pelvic mesh trial Ethicon has faced in Pennsylvania state court over its allegedly defective mesh products causing substantial, life-altering injuries. The plaintiff in this mesh trial claims her implant sawed its way into her urethra. Three surgeries later, doctors are still unable to repair all the damage the mesh caused.
"These defective products have literally mangled Ella Ebaugh's urethra," her attorney said.  "She's going to suffer with this for the rest of her life."
Overwhelmingly, juries have sided with injured plaintiffs in previous pelvic mesh trials. As a result, juries have returned a total of almost $50 million in damages against Ethicon in four out of the previous five trials. And, recently a judge called Ethicon's sole victory into question. He found that the jury's ruling was inconsistent with the evidence and its own conclusions. Consequently, there will be a damages hearing to determine the extent of Ethicon's liability.
Pelvic Mesh Trial Case
Ebaugh indicates she received a TVT-Secur mesh device in May 2007 to treat stress urinary incontinence (SUI). But, her condition did not approve, prompting physicians to implant a second device later that summer.
In 2011, she reported sudden urinary urges and severe pelvic pain. Doctors discovered that the mesh had eroded into her urethra. Due to this, Ebaugh underwent a series of surgical interventions to retrieve as much of the mesh as possible. In one of these operations, she was cut open from "hip to hip." However, despite these drastic measures, doctors were unable to repair all of the mesh's damage. Scarring from the mesh implants had permanently propped open Ebaugh's urethra. Consequently, she is no longer able to control her urine flow.
The first case to go to trial out of the mass tort program yielded a $12.5 million verdict in December 2015. The second pelvic mesh case awarded $13.5 million with $10 million in punitive damages. About two months before Johnson & Johnson's defense win, another Philadelphia jury returned with a $20 million award. This included $17.5 million in punitive damages. In May, a jury awarded another woman $2.1 million over similar claims.