Benicar Lawsuits Filed by Almost 2,000 Over Gastrointestinal Problems
July 19, 2017
By Emily Cox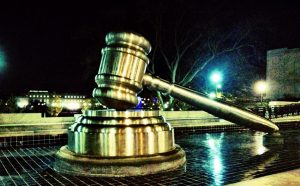 Almost 2,000 Benicar lawsuits are now pending against Daiichi Sankyo and Forest Laboratories over the drug makers' failure to warn the medical community, patients, and federal regulators about the popular blood pressure drug's risk of chronic diarrhea and gastrointestinal problems.
According to this week's docket update, there are now 1,942 Benicar lawsuits pending in the multidistrict litigation (MDL). However, historically, there have been 2,254 lawsuits against the drug manufacturers, and lawsuits continue to mount. These lawsuits all indicate that the drug makers knew about the connection between Benicar and gastrointestinal distress, including debilitating diarrhea. However, these companies concealed this risk for years in order to maximize profits at the expense of patients who might not have wished to incorporate uncontrollable diarrhea into their daily blood pressure regulation regimen.
Some plaintiffs allege that Benicar caused them to have 10 to 20 diarrhea attacks per day. Therefor, this led to malnutrition and the loss of up to 100 pounds. As a result, others experienced malnutrition complications such as cataracts and infections. A few have even died from the severity of their gastrointestinal issues and related complications.
Furthermore, gastrointestinal issues from Benicar may not surface immediately. It could take months, or even years, after patients start taking the drug. Consequently, many doctors didn't recognize that Benicar was causing these issues. So, patients remained on the drug, increasing the risk of permanent intestinal damage, known as villous atrophy.
Benicar Lawsuits Litigation
Finally, in July 2013, the FDA mandated the drug manufacturers update Benicar warnings. The agency indicated that there was unmistakable evidence that the drug may cause severe diarrhea problems. As patients began to realize that Benicar was causing their gastrointestinal issues, they began seeking retribution for the harm these companies inflicted willfully on them for financial gain. In 2015, the Judicial Panel on Multidistrict Litigation (JPML) centralized all federal Benicar lawsuits in the District of New Jersey. District Judge Robert Kugler is presiding over the litigation.
The MDL presses forward this week with Daubert hearings to establish scientific grounds for plaintiff claims. Depending on the outcome of these hearings, the court will schedule a series of bellwether trials. These early trials will help gauge how future juries will likely react to evidence that is central to the litigation.