FDA Bends to Big Pharma and Postpones Off-Label Marketing Final Rule
March 20, 2017
By Emily Cox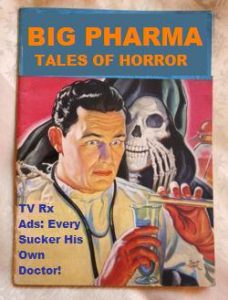 In response to a petition filed by pharmaceutical groups, the Food and Drug Administration (FDA) has delayed implementing a final rule that would give the agency greater leeway to regulate off-label marketing.
While drug makers requested an indefinite stay on the rule, the FDA delayed executing this final rule until March 2018. The rule would require drug makers to update product labeling if there is evidence that the company intended people to use its medicine for off-label uses or for an unapproved use. Doctors can prescribe drugs for any reason. However, court rulings have determined that pharmaceutical companies can only engage in off-label marketing if the information is truthful and not misleading.
The Medical Information Working Group (MIWG), the Pharmaceutical Research and Manufacturers of America (PhRMA), and the Biotechnology Innovation Organization (BIO), filed the Petition to Stay and for Reconsideration on February 8, 2017. These groups expressed outrage over the FDA's unexpected publishing of the rule in January.
"FDA's revisions were not communicated to the public prior to the Final Rule published on January 9, 2017, which deprived stakeholders of fair notice and an opportunity to be heard in violation of the Administrative Procedure Act (APA)," the petition states.
Furthermore, the trade groups claim the rule gives the FDA too much leeway.
"The final rule would give the FDA an extraordinarily wide leeway to gauge how a company intended its medicine to be used, which can then be used to assess whether illegal promotion occurred," the groups said.
The FDA asserts that these groups misunderstood the ruling. However, the agency still relented, extending the March 21, 2017 deadline by almost a year.
Taxotere Off-Label Marketing Lawsuit
The ruling delay comes as Sanofi S.A. faces a Qui Tam lawsuit for off-label marketing of Taxotere. The lawsuit claims the company used fraudulent and illegal off-label marketing to drive sales and expand its market share. The FDA approved the high-potency taxane to treat advanced breast cancer when other treatments have failed.
Sanofi S.A. allegedly trained and directed their employees to misrepresent the safety and effectiveness of off-label Taxotere. This expanded its market into unapproved settings like first line treatment and less advanced cancer. The lawsuit claims that the company also paid doctors illegal kickbacks to get them to prescribe Taxotere for off-label uses. These kickbacks included entertainment, sports, concert tickets, sham grans, speaking fees, travel preceptorship fees, and fee reimbursement assistance.
These illicit measures dramatically increased the breast cancer drug's revenue from $424 million in 2000 to $1.4 billion in 2004. It also exposed thousands of women to Taxotere's increased toxicity and its more severe side effects, including permanent hair loss.
Additional civil lawsuits continue to mount rapidly as more women discover Taxotere unnecessarily disfigured them.