Heartburn Medication MDL Oral Arguments to Go Before JPML
July 27, 2017
By Emily Cox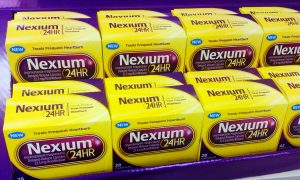 The Judicial Panel on Multidistrict Litigation (JPML) will hear oral arguments today to decide whether to transfer all proton pump inhibitor (PPI) lawsuits to one federal court for pretrial proceedings. Nexium, Prilosec, Prevacid, and Protonix are prevalent among this class of heartburn medication.
It has recently come to light that these heartburn medications may cause irreversible kidney damage. Given the over-the-counter availability and benign condition these drugs treat, it's shocking how dangerous PPIs are. Consequently, individuals are coming forward in droves nationwide to take these drug manufacturers to task for not warning of the risks while raking in the profits. Chronic kidney disease, acute kidney injury, renal failure, and other serious complications have all been recently linked to these popular heartburn and acid reflux medications.
In February, the JPML rejected injured plaintiffs' request to establish a federal heartburn medication multidistrict litigation (MDL). The panel indicated that there were too few cases and too many different drug manufacturers to justify centralization. These heartburn medication companies concealed the substantial kidney risks. Consequently, the case load was low and spread out between numerous companies. However, knowledge of PPI kidney risks is spreading like wildfire. So, people are finally beginning to understand why their lives inexorably changed. Dialysis and death have become the mantra of many who just wanted to relieve heartburn pain more efficiently than antacids that are little more than aftermarket heart-message candies. Consequently, the litigation started growing by leaps and bounds. It surged to at least 172 complaints in 28 different districts by May this year. Furthermore, this growth isn't showing any signs of slowing down anytime soon.
Heartburn Medication MDL Revival
In response to the litigation's growth, a group of plaintiffs banned together and filed a second request for consolidation in May. Their request indicated that the litigation had grown substantially and drug makers were no longer in opposition to an MDL. A heartburn medication MDL would help reduce duplicate discovery and inconsistent pretrial rulings from different courts.
According to a Hearing Session notice the JPML issued this past month, the panel will hear oral arguments today for the MDL motion. JPML will also determine the most appropriate transfer venue for the litigation.
Experts expect thousands of heartburn medication lawsuits to eventually pass through the nation's court system.