Manufacturers Press for Low Dose Xarelto Market Expansion
June 30, 2017
By Uzma Rahman & Emily Cox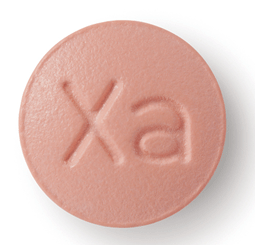 In the face of more than 18,000 lawsuits over alleged life-threatening bleeding from the controversial blood thinner, manufacturers are now taking strides to expand their billion dollar baby's market share even further by seeking FDA-approval to treat recurrent venous thromboembolism (VTE) with low dose Xarelto.
10 mg Xarelto only currently has FDA-approval to treat deep vein thrombosis (DVT) prophylaxis after hip or knee surgery. Of course, Xarelto manufacturers claim that this market expansion is purely altruistic to give patients more treatment options. However, given these companies' track records, it seems more probable that they just want a piece of the action. With an estimated 900,000 cases of VTE in the U.S. each year, Xarelto manufacturers have much to gain by getting low dose Xarelto into the portion of the market deemed at high risk for higher dosage amounts of the drug.
Manufacturer Announces Low Dose Xarelto
In its Wednesday press release, Johnson & Johnson's Janssen unit stated the FDA granted priority review of the supplemental drug dispensation for low dose Xarelto. Janssen hopes to gain considerable ground for the blockbuster anticoagulant by expanding its indications. The blood thinner is already phenomenally popular. Unfortunately, as more people use it, more reports of uncontrollable bleeding occur. Doctors are unable to stop the bleeding and serious, sometimes fatal side effects occurred.
Will Low Dose Xarelto Actually Help?
The drug company asserts 10 mg of Xarelto is more effective than aspirin at preventing recurring VTE. VTE is a condition that can cause deep vein thrombosis and pulmonary embolism, both of which can be fatal.
A study sponsored by the drug company shows taking low dose Xarelto reduced the risk of blood-clot recurrence by 70 percent when compared with aspirin. However, the study randomized patients to 20 mg or 10 mg Xarelto or to aspirin 100 mg daily. Recurrent VTE occurred in 17 of 1,107 patients taking 20 mg and in 13 of the 1,127 treated with the 10-mg dose. Among 1,131 patients receiving aspirin, 50 patients reported VTEs. Interestingly, the major bleeding rates were similar in both Xarelto doses (0.5% and 0.4% for 20 mg and 10 mg, respectively). The rate was also low, 0.3%, in the aspirin control group.
The FDA's priority review designation means that the agency believes the low dose Xarelto version could offer significant health benefits. However, it also shortens the review period of the drug from the standard ten months to only 6 months. This accelerated review advances the FDA's target date to October 28, 2017.
Xarelto Bleeding Risks
The FDA approved Xarelto in 2011 to treat atrial fibrillation and reduce risks associated with blood clots. The agency has expanded its indications several times since then. It quickly became one of the manufacturers' star performers. Xarelto made $582 million in sales during its first full year on the market. In 2013, this figure rose to $2 billion for the fiscal year. Xarelto is now Bayer's top-selling product, bringing in $3.24 billion in sales in 2016 and $2.5 billion in 2015. It is third on Johnson & Johnson's product roster, generating $2.29 billion for the company in 2016. Like many meteoric climbs to come before it, sacrifices were made. Unfortunately, these sacrifices may have been the health of the very patients Xarelto was purportedly designed to help.
In 2014, the Institute for Safe Medicine Practices (ISMP) reported 3,331 individuals suffered adverse Xarelto events. Of these, 1,647 experienced hemorrhagic bleeding. According to FDA reports, the drug is also responsible for at least 370 deaths.
Xarelto Lawsuits
Many of these are injuries are due to the fact that the companies released the drug without a readily available antidote to stop emergency bleeding. Whereas, vitamin K will reverse the effects of the standard blood-thinner Coumadin (warfarin). Consequently, more than 18,000 individuals have filed product liability lawsuits against the manufacturers over serious uncontrollable bleeding. Two early Xarelto trials ended in victories for the defense. However, the primary determining factor of these trials was a Louisiana doctrine that holds if the doctors claim to be aware of the risks at the trial, then the manufacturer is freed from liability. Both doctors depositions practically read like primers on how to testify for a defensive win with this doctrine.
Luckily, the next two trials will take the litigation out of Louisiana and hopefully away from this damaging piece of legislation. The next trial begins August 7 in Mississippi.