Taxotere Permanent Hair Loss MDL Now More Than 9,000 Cases Strong
July 19, 2018
By Emily Cox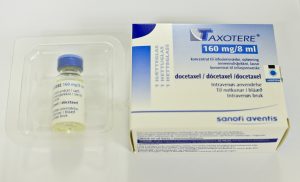 The Taxotere multidistrict litigation (MDL) over permanent hair loss continues to grow by leaps and bounds as more women discover that the breast cancer drug's manufacturer deliberately withheld information about the long-term side effects that other similar chemotherapy drugs do not carry.
Sanofi-Aventis now faces more than 9,000 Taxotere lawsuits in the federal court system over allegations that the high-potency taxane left women with permanent, disfiguring hair loss following breast cancer treatments.
Hair loss is a common side effect of chemotherapy that patients widely accept to save their lives. However, plaintiffs maintain that Sanofi assured patients that hair grows back after treatment, which is not the case for many women. These women discovered too late that Taxotere can cause thinning hair and balding that continues long after treatment, serving as a constant reminder that Sanofi took advantage of them when they were at their most vulnerable for financial gain. Plaintiffs assert that they would have chosen equally effective breast cancer treatments if Sanofi hadn't hidden Taxotere's significant side effects.
Due to similar questions of fact and law in federal Taxotere claims nationwide, the Judicial Panel on Multidistrict Litigation (JPML) consolidated the litigation before U.S. District Judge Kurt Engelhardt in the Eastern District of Louisiana for pretrial proceedings to reduce duplicative discovery and conflicting pretrial rulings that further complicate these large litigations and further delay the dissemination of justice.
Judge Engelhardt established a bellwether program to prepare a small group of cases for early trial dates to help parties gauge how juries are likely to respond to evidence that appears throughout the litigation. In May, Judge Engelhardt was confirmed as a judge on the Fifth Circuit Court of Appeals. Consequently, the JPML reassigned the federal litigation to District Judge Jane Triche Milazzo.
Taxotere Hair Loss MDL Joint Report
The Taxotere hair loss MDL parties submitted a joint report Tuesday to update the status of the litigation. The report notes that the number of claims continues to expand rapidly with at least 9,138 Taxotere lawsuits currently pending in the MDL. Consequently, it is now the fifth largest active mass-tort litigation in the U.S.
Despite a massive movement of lawsuits from state courts to the federal MDL, there are still lawsuits pending at the state level in California, Illinois, New Jersey, and Delaware. According to the report, MDL parties are coordinating with the remaining state cases by allowing state counsel to participate in MDL status conferences and taking other actions to maximize coordination efficiency.
The MDL has scheduled the first trial for May 13, 2019. Additional trials will start on September 16, 2019; January 27, 2020; May 11, 2020; and September 2020.
The outcomes of these bellwether trials won't directly affect the claims of thousands of other women pursuing retribution for Sanofi's fraudulent marketing claims. However, they may eventually influence Taxotere settlement negotiations, negating the need for thousands of individual trials nationwide.