Taxotere MCL Conference Set for October 4
September 1, 2018
By Emily Cox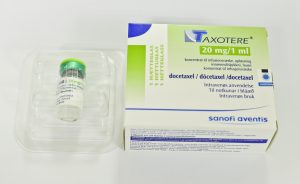 The newly established Taxotere multicounty litigation (MCL) in New Jersey is hitting the ground running, setting its initial Taxotere MCL conference to get the litigation underway.
Middlesex County Superior Court issued the order August 24, scheduling the litigation's first Case Management Conference (CMC) for October 4 at 10am.
The Court is mandating that parties submit a brief statement seven days before the conference, outlining the following information:
All company and financial affiliations with the parties and counsel associates participating in the litigation, so the court can easily identify any recusal or disqualification issues early.
All relevant actions pending in federal and state courts, as well as their current status.
Discovery status
Settlement negotiations status, including settlement demands, mediation, and settlement prospects.
New Jersey Superior Court consolidated all the lawsuits pending in the state's court systems August 15, transferring 353 cases to Middlesex County for pretrial proceedings. The plaintiffs in the Taxotere MCL allege that the cancer drug's manufacturer actively concealed considerable risks, including permanent hair loss, while grossly overstating the potent drug's efficacy. Similar New Jersey cases in the future will be filed directly into the Taxotere MCL to maximize judicial efficiency.
Taxotere MCL Background
Taxotere (docetaxel) initially received FDA approval in 1996 to treat aggressive, metastatic breast cancer when other treatment options have failed. However, despite its limited indications, Taxotere is the most commonly prescribed breast cancer drug in the US, often as a first-line treatment even though it is considerably more toxic than equally effective and safer treatments, such as Taxol. An ongoing Qui Tam lawsuit alleges that Sanofi provided exorbitant illegal kickbacks to encourage doctors to prescribe the medication as a first-line treatment, skyrocketing Taxotere to the forefront of the cancer treatment market, while Sanofi raked in the profits – much of which was obtained by defrauding the Medicare and Medicaid.
With about 300,000 breast cancer cases diagnosed each year, Taxotere is the most prescribed drug in its class despite the fact that studies show that less-toxic Taxol is more effective. In 2009, Sanofi made more than $3 billion from Taxotere before losing patent protection.
Taxotere and Permanent Hair Loss
Not only is Taxol more effective and less toxic than Taxotere. It also doesn't have the same permanent side effects as Taxotere. Studies have linked Taxotere with about a 10 percent occurrence of permanent hair loss. Sanofi knew about this side effect and hid it from its most profitable market – American women.
Sanofi knew about Taxotere's alopecia risk since at least 2005. This is when the company updated Canadian warning labels to specifically include this risk. Sanofi would go on to update European warning labels in 2012. Somehow, the U.S. must just have gotten lost in the shuffle, because warning labels would not include this warning until the end of 2015. This was more than a decade after Sanofi became aware of a GEICAM study showing that 10 percent of Taxotere patients suffered permanent hair loss. Even the company's own studies indicated more than a nine percent rate for permanent alopecia occurrence.
Outside of the Taxotere MCL, Sanofi is facing thousands of additional Taxotere lawsuits throughout the county, including nearly 10,000 federal cases that are currently pending in a multidistrict litigation (MDL) that is underway in the Eastern District of Louisiana.