Bard Hernia Plug and Ethicon Hernia Mesh Permanently Disables a Man
April 13, 2017
By Emily Cox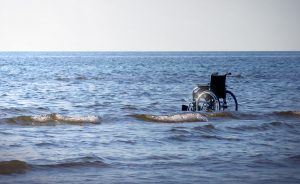 A new product liability lawsuit claims that a hernia plug and mesh caused extensive medical damage that required multiple surgeries and continues to debilitate a Texas man.
Matthew Ochoa filed the complaint in the Southern District of Texas in March. He named C.R. Bard, Bard Davol, Inc, Johnson & Johnson, and its Ethicon subsidiary as the companies responsible for damage incurred by their hernia mesh products.
Ochoa Hernia Plug and Mesh Difficulties
Ochoa indicates that he first received a Bard Perfix plug in March 2015. His medical complications began mere days after the surgery. He immediately developed groin pain and a spreading rash. Tests revealed that the hernia mesh had folded on itself. Ultimately, the hernia ruptured, requiring repair surgery.
In June 2015, Ochoa underwent hernia repair. Dr. Christopher Shin repaired the hernia with an Ethicon prolene mesh, stapling it all the way around. He didn't remove the hernia plug, placing the new mesh under the defective device instead. After the surgery, Ochoa felt a sharp, excruciating pain in his lower right abdomen. He continues to feel this debilitating pain to this day.
Ochoa underwent yet another hernia surgery to remove the original, defective hernia plug in August 2015 despite significant risks. Dr. Shin had warned Ohoa that nerve damage and the possibility of losing his right testicle. However, Ochoa accepted the risks. Unfortunately, due to extensive complications, Dr. Shin was unable to remove all the mesh.
"During the operation, Dr. Shin found that the original mesh had been tangled with the nerves and 2% of the mesh concreted onto Matthew's spermatic cord, which he was unable to remove," the lawsuit notes. "The operation took 25% longer than anticipated due to the complications that arose from the entanglement."
Ochoa's condition continued to deteriorate dramatically. Dr. Shin determined that the defective mesh was causing severe adverse reactions in Matthew's body. However, not surgical action was taken at this time.
Ongoing Hernia Plug and Mesh Complications
By December 2015, the pain in his testicle was unbearable. In January 2016, the mesh shifted, which only heightened his already substantial pain. When he became light headed, Ochoa pled Houston Methodist West Hospital to help. However, he was released when doctors could not determine a cause for his fever and physical state. Two days later, Ochoa lost his equilibrium and was unable to stand. He was admitted to St. Joseph's Hospital in downtown Houston where he lost his ability to walk. Then, Ochoa started slurring his words and passed out. Surgeons determined that mesh removal was the best course of action. However, the hospital released him with the mesh still intact and paralyzed from the waist down.
Surgeons finally attempted to remove the mesh in February 2016. They found that 40 percent of the original mesh was tangled around the spermatic cord. The severity of Ochoa's injuries shocked doctors.
"Dr. Bertini did his best to remove the mesh tangled around the cord, as Dr. Cramer found that the Prolene mesh Dr. Shin put in place, because of its defectiveness, tangled around a lot of nerves and tissue near the groin and lower right belly area," the lawsuit states. "Once the surgery was over, Dr. Bertini and Dr. Cramer came into the room to explain out of all their collective years of practice, they had never seen a case as bad as Matthew's."
Ochoa's hernia injuries eventually resulted in the loss of his tentacle and liver problems from his hernia mesh infection. Doctors believe some of the mesh is still in his body, causing ongoing severe pain and health problems.