Jurisdiction Ruling Begins its Chokehold on Product Liability Mass Torts
July 17, 2017
By Emily Cox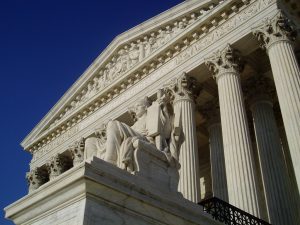 The full implications of last month's Supreme Court jurisdiction ruling, limiting state authority on product liability mass torts, are still in their infancy, but the waves are beginning to rock plaintiff-friendly courts.
A Missouri judge said Friday that most women suing Bayer over allegedly hiding safety concerns for its Essure birth control device couldn't sue in Missouri federal court as they no longer meet the requirements of the new jurisdiction ruling.
Plavix Jurisdiction Ruling
In an 8-1 ruling, the Supreme Court set tighter perimeters for state jurisdiction over product liability cases last month. The high court decided that nonresident plaintiffs cannot sue Plavix manufacturer Bristol-Myers Squibb (BMS) in California state court. The opinion held that California had not identified an "adequate link between the state and nonresidents' claims."
Nationwide marketing, substantial corporate activity in the state, and similar injuries as residents have long held as substantial connections to attach nonresident claims on mass tort lawsuits in plaintiff-friendly states. Corporations have practically inexhaustible resources, and injured plaintiffs need any edge they can get. Consequently, product liability plaintiffs flock to safe havens like California and Missouri, seeking more favorable outcomes. Much of the Supreme Court's jurisdiction ruling seems to hinge on the fact that none of the nonresident plaintiffs were prescribed Plavix, injured, or received treatment in California. And, at least one district court has interpreted this as being the line in the sand.
Jurisdiction Ruling Enacted to Toss Essure Cases
District Judge Carol E. Jackson ruled that only eight of the 94 women bringing suit against Bayer for substantial injuries incurred from the Essure device could proceed in Missouri federal court. Seven of these are residents. The judge also granted one Illinois woman, who had the device implanted in Missouri, jurisdiction. She dismissed the rest from the lawsuit, along with a bid to send the litigation back to state court.
"With one exception in this case, the non-Missouri plaintiffs do not allege that they acquired the Essure device from a Missouri source or that they were injured or treated in Missouri," Judge Jackson said. "Moreover, defendants did not develop, manufacture, label, package, or create a marketing strategy for Essure in Missouri. And the general exercise of business activities in the state cannot create an adequate link between the claims and the Missouri forum."
Comparatively, a Missouri talcum powder case was declared a mistrial before the ink used to pen the jurisdiction ruling even dried. However, nonresident claims are going forward as defendant Johnson & Johnson uses a Missouri-based company to package and label talc products.
Lawyers for the plaintiffs argue that, during development, Essure manufacturers had "extensive contacts" in the state and a marketing strategy targeting it. They also said that the company conducted several studies in the state to receive FDA approval. This means that the company used Missouri hospital and Missouri physicians for this very approval. They remain hopeful that these facts can overturn the jurisdiction ruling.
The Essure Case Demolished by Jurisdiction Ruling
Originally, these women sued Bayer in St. Louis in January. Bayer removed the case to federal court in March as the women involved came from more than 25 states. They claim that Essure's original manufacturer, a company in serious financial trouble named Conceptus, lied about the device's safety for profit.
"By the time the FDA approved Essure for sale in 2002, it was Conceptus' only commercial product," the complaint states. "Conceptus relied entirely on the success of Essure to solve its massive debt problems and achieve profitability. To promote the perceived safety of the device and gain market acceptance, Conceptus devised and implemented a scheme to defraud physicians and patients, by means of false and fraudulent pretenses, representations and concealment of material facts."
When Bayer bought Conceptus in 2013 for about $1.1, Bayer continued this path of deceit, exposing women to harm for financial gain. According to the suit, Bayer also manipulated FDA reports and provided false or misleading information about the device's safety.
The complaint also cites a study of New York women with Essure. It found that these women were 10 times more likely to need corrective reoperation than those with tied tubes.
Essure Overview
Essure is a permanent birth control system. It consists of two coils that a doctor can implant in a woman's fallopian tubes in an outpatient setting. The coils cause scar tissue to form, creating a barrier to prevent pregnancy. However, there are many reports of serious adverse reactions. These include heavy bleeding, chronic pain, unwanted pregnancy, ectopic pregnancy, allergic reaction, and even death. Unfortunately, not many doctors are trained to operate on the fallopian tubes to remove just the coils. Consequently, women who endeavor to alleviate their symptoms often must undergo a hysterectomy. As a result, the FDA added a black box warning to the device. The agency also mandated that prospective patients complete a checklist to ensure that they were aware of the serious risks.