Plaintiffs in Recalled Stryker LFitv40 Hip Implants Request Centralized Litigation
January 24, 2017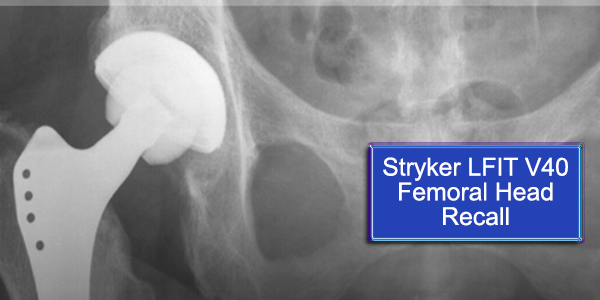 By Emily Cox
Washington, DC — Stryker hip replacement lawsuit plaintiffs seeking damages related to certain LFIT Anatomic CoCr Femoral Heads are requesting to have all such federal claims centralized in the Massachusetts U.S. District Court to coordinate pretrial proceedings. The petition, filed on January 13, 2017 with the U.S. Judicial Panel on Multidistrict Litigation, involves at least six Stryker LFITV V40 hip component cases that are pending in federal courts across the United States. Plaintiffs ascertain that the litigation could potentially include thousands of similar claims, given that the recalled devices were used with at least six of Stryker's modular hip replacement systems. Estimates place implants of the LFIT V40 components at more than 100,000.
Three case involving these femoral heads are already moving forward in the U.S. District Court in the District of Massachusetts. In order to "promote the just and efficient conduct of these actions," plaintiffs are pleading to transfer the entire federal docket to the District of Massachusetts.
According to the motion, the prosthetic hip used in total hip replacement surgery generally consists of three components – a femoral stem, a femoral head or ball, and an acetabular cup with liner. According to Stryker's marketing materials, the "LFIT Anatomic CoCr Femoral Heads are compatible with Accolade TMZF, Secur-Fit Max, Citation TMZF, Hipstar, and most commercially available Stryker femoral hip stems." This differentiation makes this litigation unlike other consolidated hip litigations in that will be more than one hip stem/system as the focal point of litigation.
On August 29, 2016, Stryker released an "Urgent Medical Device Recall Notification" to surgeons who had implanted or reported problems with the femoral heads that were manufactured prior to 2011. The letter detailed that the number of complaints involving taper lock failure of the recalled femoral heads was higher than expected. Along with outlining the failure of the Stryker LFIT V40 femoral head, the letter enumerated the problems associated with the device, including:
Dislocation of the femoral head from the hip stem
Hip stem fractures
Excessive metallic corrosion leading to cobalt and/or chromium poisoning
Insufficient range of motion
Loss of implant/bone fixation strength
Excessive wear debris
Noise
Stryker never asked for any product to be returned and did not direct surgeons to notify patients of the potentially defective product.  The Canadian public health agency issued a recall notification concerning the device and the Australian Government Department of Health published a Hazard Alert regarding the Stryker LFIT V40 days before Stryker issued its own alert in the United States.
Plaintiffs allege that Stryker knew and concealed that the LFIT V40 femoral heads were defective and dangerous, failing to properly inform hundreds of physicians implanting these devices into thousands of patients across the country. Furthermore, plaintiffs allege that the LFIT V40 Femoral Head was defectively designed, manufactured, and marketed by Stryker, resulting in serious and significant injury to recipients of the defective implant hardware.
If you or a loved one has received a metal-on-metal Stryker hip replacement, you may be eligible for compensation. Please fill out the contact form on this page, call Arentz Law Group at 1-800-305-6000, or text 800-440-4400 to begin a free review of your claim.