Lymphoma Caused by Weed Killer Roundup, Groundskeeper Alleges
March 28, 2017
By Emily Cox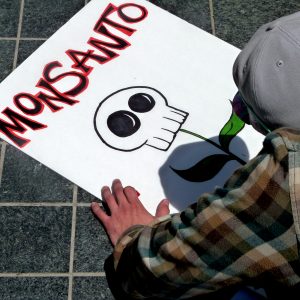 A former groundskeeper is suing Roundup manufacturer Monsanto, claiming the weed killer gave him non-Hodgkin's lymphoma.
Richard Aird filed the complaint March 22 in Delaware Superior Court. He is claiming that Monsanto withheld information from the public about glyphosate's health risks. Glyphosate is the primary ingredient in the popular weed killer. Aird alleges he could have taken safety precautions to prevent the non-Hodgkin's lymphoma if the company had been more forthright about its chemical.
Aird worked for approximately 10 years as a groundskeeper at Canyon Oaks Ranch in San Juan Capistrano, California. During that time, he used Roundup on a regular basis.
In March 2007, he was diagnosed with non-Hodgkins lymphoma. This caused him to undergo chemotherapy and requires ongoing oncology treatment.
Monsanto has represented Roundup as "safer than table salt" and "practically non-toxic" to mammals, birds, and fish. However, many organizations, including the World Health Organization, have found that the herbacide's primary ingredient, glyphosate, may cause cancer. It also damages DNA in human cells. This lawsuit alleges that Monsanto was aware of Roundup's carcinogenic properties as early as the 1980's and withheld this information from agricultural workers. Furthermore, the lawsuit cites studies that show Roundup as considerably more dangerous than glyphosate alone. But the company continued to promote Roundup as safe anyway.
Roundup Lymphoma Lawsuits
Aird's case joins hundreds of other similar lawsuits against Monsanto, alleging that the company failed to adequately warn the public about the non-Hodgkin's lymphoma risk associated with Roundup. Aird, and other groundskeepers, farmers, landscapers, agricultural workers and others allege that they may have avoided non-Hodgkin's lymphoma and other cancers if Monsanto had warned them of the risks.
Monsanto also faces allegations that it ghostwrote studies for the EPA that showed Roundup as safe. There is also evidence that they colluded with EPA officials to conceal Roundup's risks in order to protect profits rather than people.