Stryker Hip Implant Litigation Sets First Trial
November 7, 2017
By Emily Cox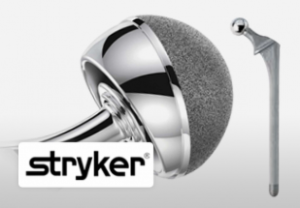 The Stryker hip implant federal multidistrict litigation (MDL) over serious injuries from the company's defective LFit v40 component is pressing forward with preparing for the first trial to go before a jury in September 2019.
The Stryker hip litigation centers on the company's LFit v40 femoral head that was used in several hip replacement systems. The company removed the implant from the market this past year as disturbing complications from the Stryker hip component skyrocketed. Specifically, taper lock failures with the cobalt-chromium femoral head caused significant problems. These included metal poisoning, significant pain, inflammation, loss of mobility, disassociation, and the need for dangerous revision surgery. Plaintiffs in the litigation continue to suffer to this day despite undergoing additional invasive procedures. They allege that Stryker misrepresented the safety of the device to the detriment of thousands.  Now, they are out for justice against the negligent manufacturer.
Judge Indira Talwani issued the critical case management order on October 25. The order outlines essential future communication protocols and the process for selecting a group of cases for early trials. Parties are to submit a proposed order to address procedures for identifying cases and for case-specific discovery by December 1. They need to identify these specific cases by February 2, 2018, and complete common fact discovery by October 4, 2018. Then, the parties will engage in expert discovery, filing pretrial motions on evidence admissibility by March 2019. Finally, if Stryker hip settlements have not been reached following the discovery process, the Court will proceed with the first bellwether trial on September 16, 2019.
Stryker Hip Litigation
As the number of individuals filing lawsuits continued to escalate, the Judicial Panel on Multidistrict Litigation (JPML) centralized the litigation earlier this year before Judge Talwani in the District of Massachusetts in order to avoid duplicate discovery and conflicting pretrial orders that would further hold up the litigation.
This is not the first time that such measures have been necessary for defective Stryker hip systems and components. The JPML established similar proceedings following the 2012 Stryker Rejuvenate and ABG II recall. However, before these lawsuits could go to trial, the manufacturer agreed to settle the litigation. The company paid more than $1 billion in Stryker hip implant settlements to resolve cases for thousands of individuals who required revision surgery after the recalled implants failed.