Stryker Hip Replacement Lawsuit Filed Over Increased Cobalt Levels
January 17, 2017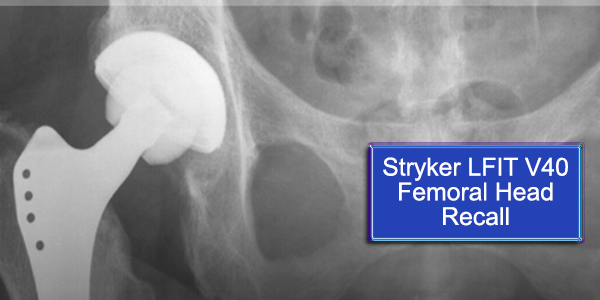 Aboutlawsuits.com reports that a new hip replacement lawsuit alleges that the Stryker Accolade TMZF femoral stem with LFitv40 femoral head led to excessive levels of cobalt being released into a man's body, resulting in premature failure of the artificial hip.
The complaint was filed by Patton Witt against Howmedica Osteonics Corps in the U.S. District Court for the District of Alaska on January 12, 2017. According to the lawsuit, Witt received the implant in March 2008 as part of a left total hip arthroplasty procedure to treat right hip arthritis. After he was diagnosed with high cobalt serum levels and an MRI showed a large soft tissue mass, Witt's surgeon determined that the corrosion from the Accolade TMZF and the LFitV30 head rubbing together had caused Witt's problems, necessitating a revision surgery to have the components removed in January 2015.
"[O]ne could clearly see extensive corrosion present at this site," his orthopedic surgeon noted in the complaint. "There appeared to be some deterioration at the trunnion with loss of the passified layer."
Witt's case has claims for manufacturing defect, defective design, failure to warn, and negligence. His wife is included as a plaintiff with a loss of consortium claim. They are seeking compensatory and punitive damages, which are designed to punish the manufacturer for recklessly disregarding consumer safety.
This case joins a growing number of similar recently filed hip replacement lawsuit that address problems with the Stryker Accolade and LFitV40 combination. Hundreds, if not thousands, of additional complaints will likely be filed as more affected individuals learn about the Stryker recall.
Last year, after the manufacture acknowledged that a higher-than-expected number of implant recipients were experiencing problems with adverse tissue reactions, trunnion failure, metal wear, and other problems, a Stryker LFitV40 hip recall was issued, impacting large-diameter femoral heads sold before 2011.
If you or a loved one has received a metal-on-metal Stryker hip replacement, you may be eligible for compensation. Please fill out the contact form on this page, call Arentz Law Group at 1-800-305-6000, or text 800-440-4400 to begin a free review of your claim.