Supreme Court Ruling Fallout Causes Talc Mistrial
June 19, 2017
By Emily Cox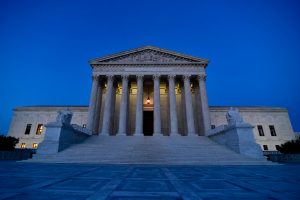 A St. Louis judge declared a talc mistrial in the latest lawsuit alleging that Johnson & Johnson's talcum powder products caused ovarian cancer after the Supreme Court levied a jurisdiction decision Monday morning.
The high court's ruling could potentially obliterate St. Louis' claims by women who reside outside the state. In August 2016, the California Supreme Court ruled that the state could preside over 86 residents and 575 non-Californians who brought Plavix claims. They allege that the blood-thinner actually increased their risk of heart attack, stroke, and internal bleeding.  The California high court assumed jurisdiction based on Bristol-Myers' national marketing campaign. It also claimed the company's nearly $1 billion sales of the drug in the state strengthened this authority. However, in an 8-1 opinion, the Supreme Court struck down this ruling, siding with Bristol-Myers and the federal government.
Judge Rex Burlison declared the talc mistrial at the onset of the second week of the sixth Missouri trial over the connection between Johnson & Johnson's talcum powder products and ovarian cancer with toxicology expert testimony slated for early this week. The case was brought by the families of three women who died of ovarian cancer after using the company's talc products for years. While Johnson & Johnson affirmed that the state held jurisdiction over the one state resident's claims, it held that the Virginia and Texas residents should not be allowed to bring claims in Missouri under the Bristol-Myer ruling.
Possible Talc Mistrial Loophole
Justice Samuel Alito wrote for the Supreme Court majority.  He wrote that California could not hear the case "without identifying any adequate link between the state and nonresidents' claims." However, this doesn't appear to be exactly the case with the St. Louis talcum powder trials.  Johnson & Johnson and co-defendant Imerys Talc use Pharma Tech Industries to package and label talc products. This company has a plant in Union, MO.
Individuals can typically bring suit against companies in a state where they have headquarters or incorporations. This also extends to states where companies have important ties. Packaging and labeling may be grasping at straws but is still essential to the distribution process. Despite the talc mistrial, lawyers still believe they will be able to pursue claims. There are currently approximately 1,100 pending in St. Louis.
"We think we're still alive in Missouri," a lawyer, representing the plaintiffs, said.
He continued that Burlison's ruling merely added Pharma Tech as a potential defendant to future claims.