Toyota Recalls 1M Vehicles Due to Electrical Fire Risks
September 5, 2018
By Emily Cox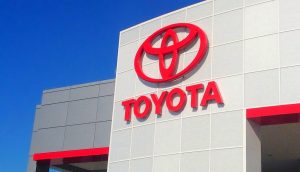 Toyota announced Wednesday that it is recalling around 1 million of its Prius and C-HR compact SUV vehicles due to concerns that an exposed engine wire could short circuit and cause fires.
The Japanese vehicle manufacturer indicates the problem affects 2016-2018 Prius and C-HR models. Owners will be able to take their vehicles to Toyota dealerships to have the faulty wires repaired.
The issue stems from "an engine wire harness which is connected to the hybrid vehicle power control unit," Toyota said. "A portion of the wire harness could contact the cover at this connection and wear over time, causing an electrical short circuit, which can generate heat."
"If sufficient heat is generated, there is an increased risk of a vehicle fire," the company added.
When vehicle owners bring their vehicles to dealerships, the manufacturer indicates that the wire harness will either be "replaced with a new one that includes a protective sleeve" if a "wire core is exposed," or the dealership will simply apply protective tape to the harness assembly if the core is not exposed.
Toyota estimates that the recall will affect approximately 1 million vehicles. Roughly 800,000 of these, including all the C-HR model compact SUVs, were sold in Japan, Europe, and Australia. The recall will also affect about 192,000 Prius' sold in the US.
Toyota Continues to Face Serious Problems
Wednesday's announcement comes on the heels of Toyota announcing that it is recalling nearly 20,000 2012 Avalons for potentially defective seatbelt buckles that could cause the airbag not to deploy correctly.
In August, a jury slammed the company with a $242 million verdict, finding that the defective front seats of a Lexus caused two small children's serious injuries in a rear-end collision and that Toyota carried most of the blame for their skull fractures and traumatic brain injuries.
A putative class action of owners also sued Toyota in February over claims that certain Prius models have a defect that presents serious risks of stalling while traveling at high speeds, potentially causing accidents.
In January, Toyota announced it was adding several hundred thousand vehicles to the ongoing recall over faulty Takata airbags. The ensuing fallout of which has dragged Takata Corp. into a protracted bankruptcy.