Vaping Could Increase Heart Attack Risks
August 28, 2018
By Emily Cox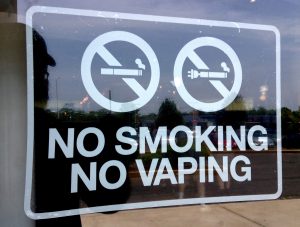 While many people chose e-cigarettes as a healthier alternative to smoking tobacco, a new study indicates that vaping could double heart attack risks.
This past week the American Journal of Preventative Medicine published a study by George Washing University researchers who warn that vaping and combustible cigarettes both raise a person's risk of suffering myocardial infarction. Using the two together increases risks five-fold.
Researchers examined data from 2014 and 2016 National Health Interview Surveys. These included more than 69,000 people older than 18 years old. They analyzed cross-sectional associations between vaping and myocardial infarction, or heart attack, risks, as well as between cigarette smoking and heart attack risks.
Daily vaping carried double the heart attack risks compared to people who never used e-cigarettes. Traditional smokers had triple the heart attack risks.
Approximately two-thirds of e-cigarette users also used traditional tobacco products. Among those who used both e-cigarettes and tobacco cigarettes, the heart attack risk was five times the rate of nonsmokers.
Vaping Studies Continue to Indicate Elevated Risks
Most consumers assume that e-cigarettes are safer than traditional tobacco products. However, this is not the first study to connect vaping with heart problems. A 2017 UCLA study also concluded that vaping increased heart disease risks.
According to the researchers' findings, the heart attack risk also increased among e-cigarette users if they had a history of hypertension, high cholesterol, or diabetes. The risk increased with age as well, going up for every 10 years of age. However, women had the lowest odds overall.
The findings suggest that former e-cigarette users no longer had increased heart attack risks. But, former tobacco cigarette users did not enjoy the same relief. Former tobacco smokers still had increased heart attack risks, especially if they were using e-cigarettes.
Almost 60 percent of smokers use vaping to quit tobacco cigarettes. However, even after quitting tobacco cigarettes, their heart attack risks remain high.
The study's lead author warned that switching from traditional cigarettes to e-cigarettes does not reduce heart attack risks. Furthermore, being a former smoker actually compounds a person's risks even when using e-cigarettes.
Consequently, researchers determined that the only way to effectively reduce health risks is to quit all forms of nicotine.