Farmer Claims Monsanto Weed Killer Caused Cancer
April 8, 2017
By Emily Cox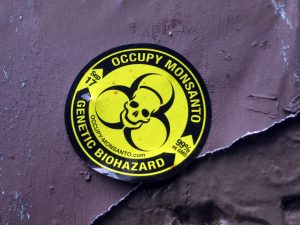 A new product liability lawsuit alleges that exposure to the popular Monsanto weed killer Roundup caused non-Hodgkin's lymphoma.
Thomas Taylor filed the complaint March 29 in Delaware Superior Court. The complaint alleges that Monsanto deceived farmers and other agricultural workers about Roundup's safety. The company claimed that the weed killer and its active ingredient, glyphosate, were "safer than table salt" and did not recommend protective clothing while using the herbicide.
"For nearly 40 years, farmers across the globe have used Roundup, unaware of its carcinogenic properties," the lawsuit states.
According to the lawsuit, Taylor used Roundup routinely for three years while working on a northern Michigan farm. Taylor maintains that he both mixed and sprayed the weed killer around eight times per month from June to September each year, following all safety and precautionary warnings.
Taylor was diagnosed with large non-Hodgkin's Lymphoma in April 2013. Consequently, Taylor underwent chemotherapy, resulting in gallstones. Furthermore, he continues to be monitored by his oncologist.
"As a result of his injury, Plaintiff has incurred significant and continuing economic and non-economic damages," the claim states.
Monsanto Weed Killer Lawsuits
Taylor's case joins the rising tide of similar individuals who suffered from non-Hodgkin's lymphoma after extended exposure to the Monsanto weed killer. These individuals indicate that they could have avoided their cancers if Monsanto had adequately warned of the risks. They maintain that they could have taken proper safety precautions or used safer products to control weed growth.
"Plaintiff's injuries, like those striking thousands of similarly situated victims across the country, were avoidable," the claim states.
In 1996, the New York Attorney General (NYAG) filed a lawsuit against Monsanto for false and misleading advertising about the safety of Roundup products. By November 1996, Monsanto entered into an Assurance of Discontinuance with NYAG. In this assurance, Monsanto agreed stop publishing and broadcasting any advertisements in New York that implied that the weed killer was safe. Monsanto upheld its end on this assurance. However, the company has not altered its advertising in any other state to this day. Consequently, Monsanto continues to assert that the chemical is "practically non-toxic" everywhere except New York.
In March 2015, the World Health Organization's International Agency for Research on Cancer (IARC) determined that Roundup's active ingredient, glyphosate, was likely a cancer-causing agent. The agency's report specifically links Roundup with non-Hodgkin's lymphoma.