Arkema Officials Charged with 'Recklessly' Releasing Chemicals During Harvey Flooding
August 7, 2018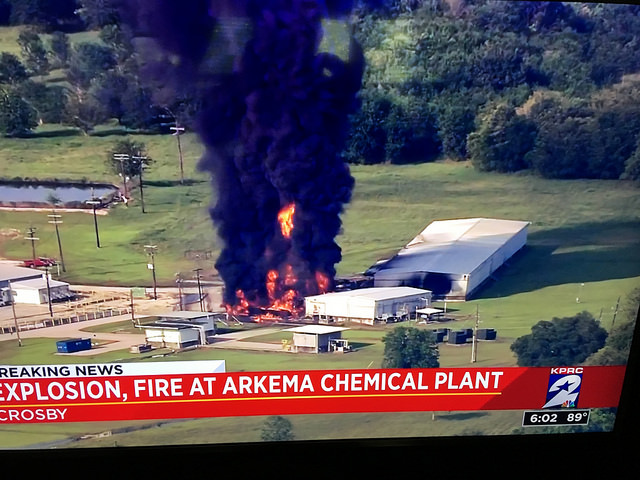 By Andrew Emett
Responsible for releasing a toxic cloud over a Texas community during Hurricane Harvey last year, Arkema North America, CEO Richard Rowe, and plant manager Leslie Comardelle were recently indicted for placing residents and first responders at risk of serious bodily injury. Although officials from the chemical company claim that their failsafe systems failed, Harris County District Attorney Kim Ogg accused the French-made major chemical manufacturer of placing profits over public safety along with a basic lack of preparation.
Due to the impact of Hurricane Harvey last year, floodwaters at Arkema's chemical plant in Crosby knocked out the facility's power which resulted in volatile chemicals bursting into flames. Unable to keep the organic peroxides refrigerated, Arkema officials released plumes of toxic smoke into the air as the chemicals caught on fire and partially exploded.
"Companies don't make decisions, people do," Harris County District Attorney Kim Ogg said in a statement. "Responsibility for pursuing profit over the health of innocent people rests with the leadership of Arkema."
At least 21 first responders and other officials received injuries as they breathed in some of the fumes when arriving at the plant. Neighbors, first responders, and local government prosecutors have filed numerous lawsuits alleging that Arkema was negligent and failed to properly prepare for the storm.
"Indictments against corporations are rare," Ogg noted. "Those who poison our environment will be prosecuted when the evidence justifies it."
"It is outrageous to assert that Arkema or any of its employees behaved criminally. No one needs a reminder that Hurricane Harvey devastated a wide region," Arkema spokeswoman Janet Smith recently stated. "It overcame the preparedness efforts of millions of individuals, and many, many companies and government agencies. It is hard to believe anyone would seek to criminalize the way in which one facility was impacted by such a crushing natural disaster."
According to an investigation led by the U.S. Chemical Safety Board, the Arkema plant was ill-prepared for such severe flooding.
"As the hurricane approached, Arkema was more concerned about production and profit than people," said Alexander Forrest, chief of the Environmental Crimes Division at the Harris County District Attorney's Office.
On Friday, a grand jury indicted Arkema North America along with its CEO and a plant manager for "recklessly" releasing chemicals into the air. On Monday, Arkema CEO Richard Rowe and plant manager Leslie Comardelle appeared in court to face the criminal charges against them.
If convicted, Rowe and Comardelle would each face up to five years in prison, while the company could be ordered to pay a $1 million fine.