Mesh Mass Tort Could be in Big Trouble
August 11, 2017
By Emily Cox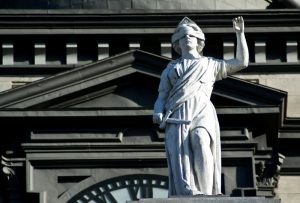 Big Pharma wasted no time in applying a new landmark Supreme Court ruling limiting personal jurisdiction to undermine numerous important mass torts that are endeavoring to take these companies to task for causing widespread, unspeakable harm with their bottomless greed and negligence. Now, it has the pelvic mesh litigation in its crosshairs. The judge overseeing the pelvic mesh mass tort in Philadelphia has agreed to revisit the state court's jurisdiction over numerous cases pending there.
Philadelphia Court of Common Pleas Judge Arnold New granted Johnson & Johnson's motion on the matter earlier this month. J&J is seeking to strike 91 cases from the mass tort program, citing the Supreme Court's game-changing Bristol-Myers Squibb (BMS) decision. This is the first time Big Pharma has used Bristol-Myers to target a Philadelphia mass tort program. But, if J&J succeeds, it will surely not be the last. It could very well be open season on out-of-state plaintiffs.
Mass Tort Jurisdiction Ruling
In its 8-1 June ruling, the Supreme Court severely restricted access to plaintiff-friendly jurisdictions. The High Court determined that plaintiffs must meet specific criteria to file product liability lawsuits out-of-state. Nonresidents now need to have been injured, received treatment, or received the product itself in the state to participate in mass torts in plaintiff-friendly jurisdictions. If plaintiffs don't meet these criteria, then defendants need to be "at home" in the state or have conducted business in direct connection to the defective product. However, most of these companies avoid these connections to plaintiff-friendly states for this very reason.
The ruling decimates many state-level provisions that helped level the playing field between injured individuals and corporations with unfathomable resources. These provisions allowed out-of-state plaintiffs to attach claims to residents' lawsuits if they suffered similar injuries and the defendants had a nationwide presence.
Consequently, the ruling could scatter and shrink mass torts. Many plaintiffs will have no option but to engage these powerful defendants on their home turf. These may be the only courts with enough plaintiffs to effectively pool resources to stand against these global conglomerates. Otherwise, they will have to go into battle alone or with a much-diminished arsenal to pursue claims at home.
Shock waves from the ruling hit the St. Louis talcum powder litigation against Johnson & Johnson first, resulting in a mistrial within mere hours of the decision. Bayer quickly followed suit to toss all but eight claims from an Essure lawsuit involving more than a hundred women. These women allege that the birth control device caused chronic pain, severe injuries, hysterectomy, and even death.
Now, J&J has turned its sights on women who have suffered debilitating complications from pelvic mesh implants, including mesh erosion, organ perforation, chronic pain, incontinence, chronic infections, adhesions, scarring, and more.
Is the Philadelphia Mass Tort in Jeopardy?
New issued the six-page order August 1. It vacated a March 2015 ruling that found Philadelphia had jurisdiction over the pelvic mesh cases. He called for parties to submit more briefings on the issue to the court over the next month.
According the order, the pelvic mesh mass tort program is helping injured women from all corners of the country seek justice for egregious injuries caused by J&J's Ethicon unit's dangerously defective vaginal mesh. J&J and Ethicon have their primary places of business in New Jersey. This makes the litigation a prime candidate for Big Pharma to invoke the BMS ruling.
The pelvic mesh mass tort grew seven percent this past year, climbing from 164 to 176 women. Despite almost incomprehensible injuries and continual pain, these women have somehow found the strength to fight for what's right. However, BMS could wipe out more than 50 percent of these claims from the face of the litigation. Furthermore, it would set a dangerous precedent for the entirely of Philadelphia's mass tort program.
Allegedly, J&J and Ethicon knew their pelvic mesh products were exceptionally dangerous but continued to market the devices anyway for financial gain. They sentenced these women  to a lifetime of pain, while continuing to feast on device profits. Now, they want to walk out on the bill for the lives they ruined with their insatiable appetites. And, the Supreme Court may have handed them the means to do so.
And, given trial verdicts in Philadelphia so far, the companies certainly have plenty of motivation to limit their liability. So far, Philadelphia juries have returned with four out of five plaintiff verdicts with damages totaling almost $50 million. Also, Judge New recently decided to revisit the one defensive victory in a damages hearing, ruling that the jury's verdict was contradictory.