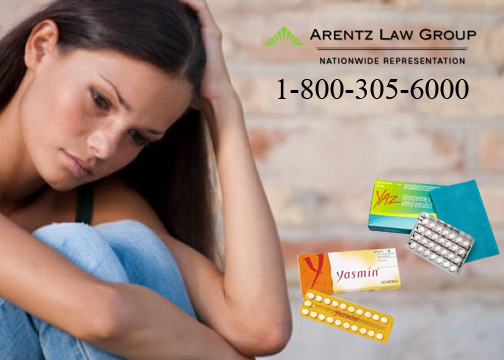 Yaz contains ethinyl estradiol and drospirenone, a hormone that is unique to Yaz, Yasmin, Ocella, Beyaz, and other "fourth-generation" birth control pills.  Drospirenone is a synthetic progestin that raises potassium levels in the body, causing a condition known as hyperkalemia.  Hyperkalemia (elevated potassium in the blood) can cause a host of health problems.  Birth control pills containing drospirenone have been found to dramatically increase a woman's risk for deep vein thrombosis (DVT), pulmonary embolism, stroke, and sudden death.
Yasmin Side Effects
Bayer aggressively marketed Yasmin without adequate warnings about serious and potentially fatal Yasmin side effects.  As a result, the Yasmin family of pills are now among the most popular forms of birth control in the United States.  Yasmin problems have been linked to the ingredient drospirenone, a progestin which is not like other progestins available in the United States.  Drospirenone can cause elevated potassium levels in a condition known as hyperkalemia, and this can cause serious heart issues and other health issues.
New "fourth generation" birth control pills contain the hormone Drospirenone, which has been linked to several serious and even life threatening side effects. Birth control pills containing Drospirenone include: Yaz, BeYaz, Yasmin, Safyral, Ocella, Syeda, Zarah, Beyaz, Gianvi, and Loryna.
In 2002, the prominent consumer advocacy group Public Citizen listed Yasmin as a "Do Not Use" drug in April 2002, based on the following reasons:
Yasmin side effects from drospirenone can increase potassium levels in the blood, leading to potential heart problems and other health concerns

There is no evidence that Yasmin risks outweigh benefits, or that this drug is in any way superior to older contraceptives that don't have drospirenone
Multiple studies have shown the potential risk of fatal health problems linked to Yasmin.  Despite the fact that Bayer was undeniably aware of these risks, they continued to market their drug without proper warnings.  They also introduced a new contraceptive, Yaz, which also contains drospirenone and this poses similar risks to Yasmin.
Yasmin side effects may include:
Heart attack

– Drospirenone, combined with ethinyl estradiol, can cause an increase in the blood's potassium levels. This increase can lead to hyperkalemia, which can result in cardiac arrest. Hyperkalemia often has no symptoms, and is often detected after serious heart conditions have already occurred.
Gallbladder disease

– Drospirenone is also associated with gallbladder disease, particularly in young women.

Deep vein thrombosis

– Drospirenone has also been linked to deep vein thrombosis (DVT), which is a blood clot that forms in a deep vein, and pulmonary embolism—blood clots in the lungs. Research published in the Canadian Medical Association Journal (November, 2011) found that women taking birth-control pills containing the drospirenone are as much as 65 percent more likely to develop venous thromboembolism than women taking older generations of the pill.

Venous Thromboembolism

– Drospirenone has also been associated with venous thromboembolism (VTE)—blood clots that form within a vein. Studies suggest that women on these pills (listed above) containing drospirenone have double the risk of VTE than women on pills containing an older progestogen
Settlements
According to a 2014 second-quarter financial report, Bayer Healthcare Pharmaceuticals has resolved thousands of claims alleging adverse side effects of the birth control pills Yaz and Yasmin. The pharmaceutical company has paid out over $1.8 billion in settlements to resolve Yasmin and Yaz lawsuits brought by women who experienced deep vein thrombosis (DVT) and pulmonary embolism.
Bayer failed to sufficiently warn birth control patients and doctors of the increased risk of blood clots when exposed to the Drospirenone in its pills.  Lawsuits have also been filed against Bayer for injuries sustained from generic counterparts of Yasmin and Yaz, marketed under the brand names Gianvi and Ocella.
Why File a Yaz Lawsuit?
As of April 20, 2015, Bayer had reached agreements to settle approximately 9,600 claims in the United States for Venous Clot injuries (Deep Vein Thrombosis or Pulmonary Embolism) for a total amount of about $1.92 billion; an average of $200,000 per settlement.
Women who have suffered from serious Yaz side effects have filed lawsuits in pursuit of compensation for damages such as the cost of medical care, lost wages, and pain and suffering.  These suits filed by Yaz lawyers are based on claims against Bayer Healthcare Pharmaceuticals, Inc. and its subsidiary, Berlex, Inc., alleging that these pharmaceutical manufacturers:
Failed to provide sufficient warning

to the medical community and women regarding potential Yaz side effects risks

Failed to conduct thorough testing

of Yaz before it was placed on the market

Exercised negligence

in failing to recall Yaz after the unreasonably high rate of side effects was discovered

Marketed Yaz aggressively despite the known dangers that this drug poses to women,

placing profit over patient safety
If you or a woman you love has suffered blood clots, serious injury, or death after taking Yaz; consider pursuing compensation for your damages.  Your life has been hugely affected by the side effects of Yaz; pursuing a legal claim is a way for Yaz survivors to take back control.  The drug company put profits before your safety and they should be held accountable.
Yaz FAQ
How to File a Claim
If you are considering seeking a lawyer regarding your Yaz concerns, it's important to seek a consultation with a lawyer as soon as you possibly can.
The experienced Yaz attorneys of Arentz Law Group understand that getting involved in litigation can be daunting. Our goal is to get you your life back without causing additional financial or emotional stress. We never require any upfront fees and strive to help you receive your settlement with as little time and effort as possible on your end. Simply contact our office anytime, day or night, by calling 1-800-305-6000 or by completing the form below for a free legal consultation.  Once approved, we will send you the necessary record release forms that will allow us to order your medical records and file your claim.  The Yaz lawyers at our firm are highly experienced in this type of litigation, and can stand by you until you recover the full compensation to which you are entitled.