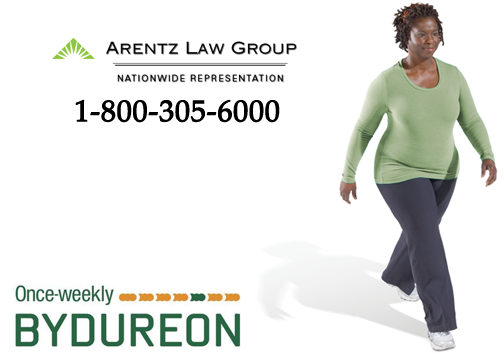 Bydureon and Byetta lawyers at Arentz Law Group, P.C. are currently accepting Bydureon pancreatic cancer lawsuits in all 50 states.  Bydureon is a version of the type-2 diabetes drug Byetta, and both medications have been linked to a higher incidence of pancreatitis and pancreatic cancer.  If you have been diagnosed with pancreatitis or pancreatic cancer after taking Bydureon or Byetta, you could be entitled to recover compensation for your damages in a pharmaceutical product liability lawsuit.  For more information, contact a Bydureon lawyer at our firm to schedule a free consultation and evaluation of your case.
What is Bydureon?
Bydureon is a long acting, once-weekly version of Byetta that was approved in 2012. Byetta was approved in 2005 as a treatment for type-2 diabetes and is made by Amylin Pharmaceuticals.  Both drugs are members of the glucagon-like peptide-1 family of drugs which stimulate insulin secretion from the pancreas to lower blood sugar levels.  Research has shown that Byetta and Bydureon side effects may lead to a higher risk of chronic pancreatitis, which may lead to a diagnosis of pancreatic cancer.
Bydureon Pancreatitis and Pancreatic Cancer
The first warnings about the link between Byetta and pancreatitis were released by the FDA in October 2007.  By this time, the FDA had received in excess of 30 reports of acute pancreatitis in Byetta patients.  In addition to acute pancreatitis, Byetta users have been known to develop hemorrhagic pancreatitis and necrotizing pancreatitis, which may lead to organ failure or even death.  Evidence shows that the risk of pancreatitis increases the longer Byetta or Bydureon is used.
Pancreatitis is an inflammation of the pancreas, and chronic pancreatitis may be a precursor to pancreatic cancer.  Pancreatic cancer is currently the fourth deadliest cancer in the United States.  Our Bydureon lawyers have evidence that Amylin Pharmaceuticals was aware of the risk of pancreatitis linked to their drugs, but failed to provide adequate warnings about this potentially deadly side effect.  As a result of this negligence, victims of Bydureon pancreatitis or pancreatic cancer may be able to recover substantial compensation from the drug maker.
Contact a Bydureon Lawyer
If you or someone you love took Byetta or Bydureon and were subsequently diagnosed with pancreatitis or pancreatic cancer, you may be eligible to recover significant compensation for your physical, financial, and emotional damages in a dangerous drug lawsuit.  To learn more about victims' rights in a Byetta or Bydureon lawsuit, we encourage you to contact a Bydureon lawyer at our firm for a free legal consultation.