Attorney General Sessions Faces Congressional Firestorm for not Disclosing Russian Ambassador Meetings
March 2, 2017
By Emily Cox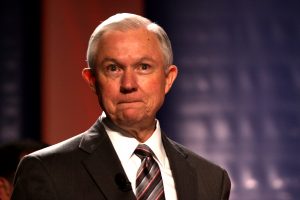 A growing number of congressional Republicans are calling on Attorney General Jeff Sessions to remove himself from investigations into possible Russian interference in the 2016 U.S. Presidential election now that it has emerged he met with Russia's ambassador two times while advising Donald Trump's campaign. Furthermore, he did not disclose these meetings in Senate testimony.
U.S intelligence agencies concluded late last year that Russia hacked and leaked Democratic emails during the presidential election campaign to help Trump win the office. As attorney general, Session heads the Justice Department. The FBI, which is part of this department, has been leading investigations into these allegations and links to Trump's associates.
During Sessions' confirmation hearing in January, Senator Al Franken asked Sessions what he would do if "anyone affiliated" with the campaign had been in contact with Russian government officials. He replied that he did not have contact with Russian officials. Sessions also answered "no" to a separate written questionnaire.
"I never met with any Russian officials to discuss issues of the campaign," Sessions said in a statement late Wednesday. "I have no idea what this allegation is about. It is false."
The Justice Department has confirmed the two meetings. However, the department also stated that these meetings were within Sessions' capacity as a member of the Senate Armed Services Committee.
Sessions' Russian Ambassador Meetings
The Washington Post reports that Sessions had a private conversation in his office with the Russian Ambassador Sergey Kislyak. This meeting happened in September. U.S. intelligence officials have identified this time as the height of the Russian cyber campaign to influence the U.S. presidential race.
The other meeting was during the Republican National Convention in July at a Heritage Foundation event. The event was attended by around 50 ambassadors.
Democrats Calling for Sessions' Resignation as Attorney General
Top Democrats are going further with their demands. They don't want Sessions to merely recuse himself from this investigation. They're calling on him to remove himself as the attorney general entirely. House Democratic leader Nancy Pelosi accused Sessions of lying under oath during his Senate confirmation hearing.
"The law has been broken," Pelosi told reporters.
Senate Democratic leader Chuck Schumer claims Sessions misled Congress and should resign for the good of the country. In terms of Sessions remaining on the probe into Russia's involvement with the 2016 election, Schumer said it would be like "Alice in Wonderland" if the administration approves Session investigating himself.
Opposition to Sessions' Removal
from Russia Investigation
President Trump said there was no need for Sessions to remove himself from the investigation. He added that he has "total" confidence in Sessions.
However, Trump fired his national security adviser, Michael Flynn, last month after it came out that the retired lieutenant general had discussed U.S. sanctions on Russia with Kislyak before Trump's inauguration and misled Vice President Mike Pense about these conversations.
Republican House Speaker Paul Ryan told reporters that he saw no purpose in Sessions removing himself from the investigation unless Sessions was the subject of the investigation.