Former NFL Star Shawne Merriman Sues Under Armour for Trademark Infringement
February 2, 2017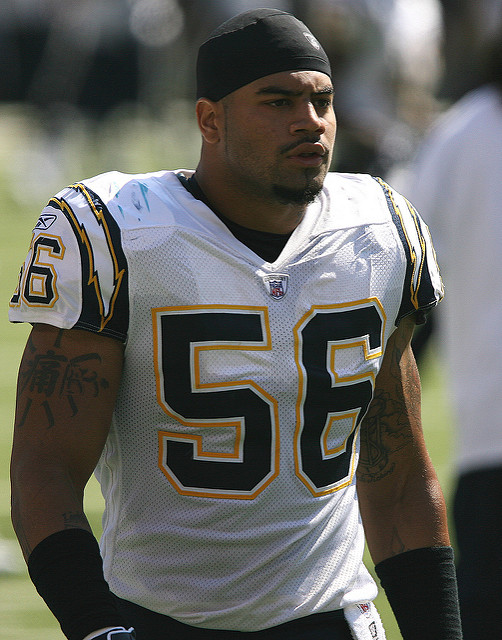 By Emily Cox
Multiple media outlets are reporting that ex- San Diego Charger Shawne Merriman has filed a trademark infringement lawsuit against the sportwear manufacturer over its Stephen Curry basketball shoe line's marketing.
The lawsuit, filed by Merriman and his company, Lights Out Holdings, in the U.S. District Court for the Southern District of California, alleges that Under Armour marketed its athletic footwear line using the professional basketball player Stephen Curry and the name "Curry 3 Lights Out" with numerous blogs posted about "Curry 3 Lights Out" shoes as well as a "Lights Out" game for use on mobile devices.
According to the complaint, Under Armour had reached a settlement with Merriman and Lights Out Holdings in a similar dispute in March 2015.
"It is amazing to me that Under Armour is again involved in the use of the 'Lights Out' mark," said Merriman. "I hope we are able to resolve this case amicably as well."
In addition to trademark infringement, the plaintiffs are also accusing Under Armour of false endorsement, federal unfair competition, common law unfair competition, breach of contract, and violation of the California Business and Professions Code.
Merriman and Lights Out Holdings seek a permanent injunction against Under Armour's activities with damages being determined by a jury. Merriman and Lights Out seek $2 million per item sold, offered for sale or otherwise distributed.
The claim states Under Armour has resisted overtures to amicably resolve the matter without litigation. Under Armour has released a statement that they plan to defend the case and find Merriman's claims without merit.
Merriman has previously sued The Vermont Teddy Bear Company for using "lights out" on pajamas; Storm Products for using the phrase on bowling balls; and Nike for continuing a Lights Out clothing line without him. These cases have all settled.
Lights Out Holdings own the federally registered trademark for "Lights Out." "Lights Out" was Merriman's nickname during his NFL career where he was selected as "NFL Defensive Rookie of the Year," and to the Pro Bowl and All-Pro teams in his first three seasons with the San Diego Chargers from 2005 – 2007.