Stryker Metal Hip Corrosion Linked to Design
March 10, 2017
By Emily Cox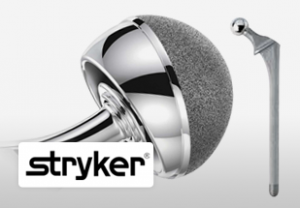 A new product liability lawsuit claims that the design of Accolade and LFitV40 components caused a  Stryker metal hip to corrode and fail, resulting in metal blood poisoning and additional invasive surgery.
The lawsuit was filed by David Campbell on March 3. He indicates that Howmedica Osteonics Corp, doing business as Stryker Orthopaedics, sold defective hip components that were likely to corrode and fail.
In April 2010, Campbell had a Stryker Accolade TMZF Hip Stem and Stryker LFit Anatomic V40 femoral head implanted. The artificial hip failed within a few years due to wear and corrosion where the cobalt and chromium femoral head rubbed against the metal hip stem.
Stryker metal hip corrosion can cause loss of mobility, soft tissue damage, and severe pain and discomfort, as well as heavy metal poisoning. Per the claim, Campbell experienced all of these side effects, and some of the damage may be permanent. Consequently, he required hip revision surgery in March 2015 to remove the faulty components.
The lawsuit suggests that revision surgeries are more invasive and complex than original hip replacement surgeries. They also take longer than the original surgeries and have a higher rate of complications.
Campbell alleges that he will require years of additional medical treatment. This may include potential additional revision surgeries due to Stryker metal hip corrosion.
In August 2016, Stryker issued a Stryker LFitv40 hip recall. At this time, Stryker admitted to a high number of individuals reporting problems with hip failure, metal wear, adverse tissue reactions, metal poisoning, and other complications.
Stryker Metal Hip Lawsuits
Campbell joins the growing ranks of individuals filing similar Stryker hip lawsuits due to problems of the metal-on-metal implant.
Legal experts expect that thousands of individuals will file additional lawsuits as Stryker metal hips continue to injure recipients. Hip replacement lawyers are also accepting cases for individuals who still have these components in their bodies. These materials could be releasing toxic levels of metal as their hip replacement corrodes unknown to them.