Judge to Consider Takata's $1B Airbag Settlement Offer
February 27, 2017
By Emily Cox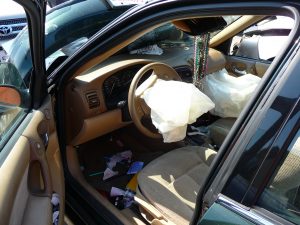 Detroit, MI — A federal judge will consider Takata Corp's guilty plea along with its $1 billion airbag settlement offer today.
Takata airbags can explode with too much force, shooting shrapnel into drivers and passengers. Due to this dangerous defect, the Tokyo-based company's exploding airbags are linked to at least 17 deaths. Furthermore, Takata allegedly hid these deadly risks for about 15 years.
The company is scheduled to enter a guilty plea in Detroit on one count of wire fraud for falsifying data and reports to automakers. In January, Takata agreed to a $25 million criminal fine and to create a $125 million fund for victims. The remaining $850 million will go to a separate fund to reimburse automakers for the largest automotive recall ever. The recall covers more than 100,000 vehicles.
Takata Executives Indicted in Connection with Airbag Settlement
In January, prosecutors unsealed a federal grand jury indictment of Shinichi Tanka, Hideo Nakajima, and Tsuneo. Each of these former Takata executives faces six counts of conspiracy and wire fraud. According to the charges, the trio falsified and altered reports to hide tests from automakers that showed the airbags could rupture since as early as 2000.
Takata Nominates Feinberg to Oversee Airbag Settlement Fund
Takata and the U.S. Justice Department have nominated lawyer Kenneth Feinberg to run $1 billion airbag settlement fund. Accordingly, this nomination will be among the items the judge weighs on today.
Feinberg has experience in administering some of the country's highest-profile settlements, including General Motor's ignition switch, Sept. 11, and BP's 2010 Gulf of Mexico oil spill.
Airbag Settlement and Takata's Sale
Takata's agreement to settle criminal allegations removes a hurdle to the air-bag maker's sale. Since this sale is necessary to continue operations and complete its recall, Takata is eager to push forward. Potential buyers include Autoliv Inc. and Key Safety Systems Inc. However, the buyer would need to ensure a stable supply of replacement parts amidst uncertainties surrounding its exposure to future liabilities, including the costs for replacing the airbags.