By Emily Cox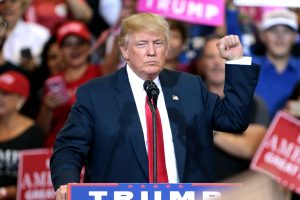 The Justice Department's investigation into connections between the Trump campaign and Russia is still in its infancy; however, the president is already maneuvering to impede on any possible charges. President Trump's legal team is exploring options to discredit special counsel Robert Mueller and his team. In case that fails, the president is looking into his options to pardon himself and those close to him.
The Russian investigation over the Trump campaign's alleged collusion with Russia to influence the 2016 election continues to expand. Trump's lawyers are already working to bridle the probe, questioning the propriety of the special counsel's work. According to several of Trump's legal advisers, they are actively compiling a list of potential conflicts of interest in order to discredit Mueller's findings. A conflict of interest could also remove Mueller entirely from the investigation.
Members of Trump's legal team are disputing these allegations. However, they aren't hesitating in broadcasting the potential conflicts of interest that they claim that they aren't compiling. Among these potential conflicts of interest facing Mueller are donations to Democrats by some of his prosecutors.
Another potential conflict is an allegation that Mueller had a dispute with Trump National Golf Club over membership fees when he left the club in 2011. However, a spokesman for Mueller denies any such dispute.
President Takes Aim at Sessions
Traditionally, Justice Department leaders strive to maintain a degree of autonomy from the White House to ensure prosecutorial independence. However, Trump lashed out about this very independence. He expressed anger and disappointment in Sessions not coming to heel over the Russian probe.
Trump publicly denounced Attorney General Jeff Sessions and Rosenstein, whose actions led to Mueller's appointment. In an interview Wednesday, the president told the New York Times that he never would have nominated Sessions if he knew the AG was going to recuse himself from the probe. Some Republicans with strong ties to the White House are viewing this as a warning sign that the attorney general is on his way out.
One Republican with connections to the administration commented that the president is "laying the groundwork to fire" Mueller with his public actions.
"Who attacks their entire Justice Department?" the Republican questioned. "It's insane."
President Explores the Extent of His Pardon Power
Trump has been asking his advisers about his power to pardon aides, family members, and even himself from possible probe indictments.
Article II, Section 2, of the Constitution, gives the president the power to "grant Reprieves and Pardons for Offences against the United States, except in Cases of Impeachments. This means this authority extends to federal criminal prosecution but not to state level or impeachment indictments. A president can also pardon an individual at any time, even before there are actual criminal charges.
As no president has ever sought to pardon himself, no courts have ever reviewed it. But, if Trump pardoned himself from implications of Mueller's investigation, it would set off a legal and political firestorm over whether a president can use the constitutional pardon power to save his own skin. The Constitution does not explicitly prohibit the president from pardoning himself. However, some experts argue that, implicitly, a pardon is something you can only give to someone else. Experts predict that such an action would move eventually make its way to the Supreme Court.
A White House advisor says that the president is simply expressing curiosity in the scope of his pardoning authority, as well as the limits of Mueller's investigation. However, the timing of this curiosity is certainly suspect.
President Concerned About Scope of Russian Probe
After FBI Director James B. Comey launched the Russian investigation in earnest, Trump was quick to fire him. Officially, he claimed that Comey's handling of the Hillary Clinton email scandal deemed him unfit for office. However, the president had previously praised this very handling. Furthermore, he indicated publicly that Comey's involvement with the Russian probe played a substantial role in his dismissal. Even more damning, Trump told Russian officials in the Oval Office last month that firing Comey relieved "great pressure" on him from the Russian investigation.
"I just fired the head of the FBI. He was crazy, a real nut job," Trump said, according to a document read to the New York Times by a U.S. official. "I faced great pressure because of Russia. That's taken off."
Consequently, when the investigation was handed to Mueller, he not only received broad authority to investigate links between Russian government and Trump's presidential campaign. He also received authorization to look into "any matters that arose or may arise directly from the investigation."  This includes perjury and justice obstruction. Upon Mueller's appointment, Trump took to Twitter, ranting that the investigation was a "witch hunt."
Trump's raging about the probe hit a new high in recent weeks after potential legal questions that he and his family could face came to light. He is specifically concerned that the probe may spread into scrutinizing his finances.
Trump is particularly disturbed that Mueller would be able to access several years of his coveted tax returns. Normally, these records would already be readily available. All presidents since Jimmy Carter have released their tax returns. However, Trump has repeatedly refused to make his tax returns public.