By Emily Cox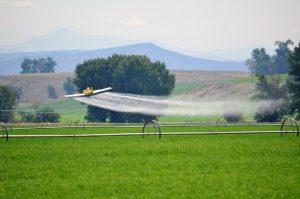 Dow Chemical is exerting pressure on an already anti-regulatory Trump administration to ignore the findings of a federal study that indicates lasting ecological damage from a family of widely used pesticides.
The Associated Press released its report last week. According to the exclusive, Lawyers representing Dow and two other chemical companies sent letters to administration Cabinet officials earlier this month. The companies asked the administration "to set aside" the results of an EPA organophosphate study that show the chemicals in a poor light. These studies concluded that the pesticides chlorpyifos, diazinon, and malathion were harmful to 1,800 critically threatened or endangered species.
Dow Chemical's Influence in the Trump White House
The companies contend that these studies are fundamentally flawed. However, these contentions may be beside the point in light of Dow's ties to the Trump administration. Dow CEO Andrew Liveris is a close adviser to Trump and heads a White House manufacturing working group. When Trump signed a February executive order, mandating the creation of task forces at federal agencies to roll back government regulations, Liveris was at Trump's side.
"Andrew, I would like to thank you for initially getting the group together and for the fantastic job you've done," Trump said as he signed the order. Then, the president handed his pen to Liveris as a keepsake of the occasion.
Furthermore, Dow spent more than $13.6 million on lobbying in 2016 and has long held significant political power in D.C. Moreover, Dow Chemical also wrote a $1 million check to help underwrite Trump's inaugural festivities. Nothing says a party like deregulation of pesticides and other chemicals.
May feel that Dow's letter to ignore the EPA's extensive study of the environmental impact of these organophosphates is the company's latest attempt to leverage its extensive White House influence to further its economic interests at the cost of the environment and public health.
The Study Dow Chemical Wants Pushed Aside
Researchers found the pesticides appeared to endanger any species that they tested them against. This could indicate that the chemicals pose substantial future risk to humans.
"Endangered species are the canary in the coal mine," Brett Hartl, government affairs director for the Center for Biological Diversity.
Many of the threatened species in the study are aquatic. According to Hartl, they are often the first to show the effects of long-term chemical contamination in sources of human drinking water.
Dow Chemical's Objections to EPA Study
However, Dow maintains that the EPA was selective in the studies it examined. The company claims the agency allowed some non-scientific studies to factor in while ignoring other studies that met inclusion guidelines. Furthermore, Dow ArgoSciences, which sells chlorpyrifos, accused that the study's "scientific basis was not reliable."
Hartl said Dow was trying to hold EPA to an unrealistic standard of data collection that could only be achieved under "perfect laboratory conditions."
"You can't just take an endangered fish out of the wild, take it to the lab and then expose it to enough pesticides until it dies to get that sort of data," Hartl said. "It's wrong morally, and it's illegal."
Environmental advocates were quick to say that Dow's criticism of the study was unfounded. The National Academy of Science developed the EPA's methods for biological evaluations.
A coalition of environment groups has fought in court for years for the EPA to examine the risks posed to humans and endangered species by pesticides, especially organophosphates. The resulting study encompasses almost four years of research and 10,000 pages of findings. Consequently, regulators at three federal agencies responsible for enforcing the Endangered Species Act are close to issuing these finding. This should result in new limits on how much and where people can use these highly toxic pesticides. However, if Dow has its way, the Trump administration will step in to intervene on behalf of the chemical giant's financial interests.
Dow and Organophosphates
Nazy Germany originally developed organophosphorous gas as a chemical weapon. Dow has been selling Chlorpyrifos, an organophosphate, for spraying on fruits and other crops since the 1960s. It is one of the most popular agricultural pesticides in the U.S. Dow sells about 5 million pounds domestically annually.
Consequently, traces of the chemical are common in sources of drinking water. A 2012 University of California at Berkeley study found that 87 percent of umbilical-cord blood samples tested from newborns contained detectable levels of the pesticide.
The Bush administration ordered the end of the residential use of another organophosphate, diazinon. Households used it to kill yard pests until human health risks, particularly to children, became apparent. However, the agricultural sector still uses it.
Malathion helps control mosquitoes and fruit flies. Some lice treatment shampoos for children also contain the chemical.