By Emily Cox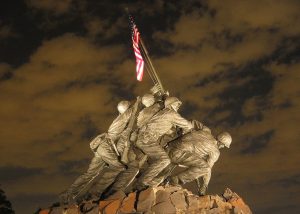 Opioid litigation insiders are already projecting that veterans' opioid lawsuits will have a lot of traction when individual cases begin transferring into the newly established multidistrict litigation (MDL).
The Judicial Panel on Multidistrict Litigation (JPML) centralized all local government opioid lawsuits Dec. 5 before Judge Dan Polster in the Northern District of Ohio. So far, all 155 cases are from government entities. However, the panel acknowledged that far more cases from a wide variety of plaintiffs and defendants will probably come forward in the future to join the litigation. It is likely that Judge Polster will establish different tracks within the MDL to separate different claims and parties. Individuals coming forward to take opioid manufacturers and distributors to task for profiting from addiction will undoubtedly be one of these tracks. And, veterans' opioid lawsuits could be among the strongest among these cases. The predatory practices of the manufacturers who egregiously exploited veteran vulnerabilities for financial gain coupled with negligence from the VA irrefutably put veterans at significantly higher risk for opioid addiction than the general population.
Veterans' Opioid Lawsuits
Recently, the VA has come under fire for its role in fueling the veteran opioid epidemic that is killing our soldiers after they come home from action. Newsweek reports that the VA recklessly overprescribed opiates for more than a decade. By 2011, veterans were twice as likely to die from an accidental opioid overdose as their civilian counterparts. To address the issue, the VA began frantically instituting mandatory opiate cutoffs for veterans with chronic pain. This initiative has also faced scrutiny for being a potentially unsafe approach, and vets are still dying from overdoses. In October, parties reached a $2.3 million settlement for an opioid overdosing at a VA medical center that resulted in the death of a former Marine. The VA has been the primary target in veterans' opioid lawsuits so far. But, it's only part of the story behind the veteran opioid crisis.
Pharmaceutical Companies' Role in Veterans' Opioid Lawsuits
Purdue Pharma played a key role in spreading opiate use among veterans. The OxyContin manufacturer gave $200,000 to the VA pain management team to essentially create propaganda. Their efforts resulted in the initial VA – Department of Defense guideline material that concluded opiates "rarely" cause addiction. Purdue's 2001 marketing budget plan also praised that "additional corporate initiatives and partnering efforts were very successful Veterans Administration."  The plan also praised other major health organizations for promoting the fraudulent "Pain: The 5th Vital Sign" campaign. However, targeting the VA was not a novel initiative on Purdue's part.
In October, the City of Paterson filed a lawsuit against some of the country's largest drug companies. Paterson lists Purdue Pharma, Teva Pharmaceuticals, Johnson & Johnson, Janssen Pharmaceuticals, Endo Pharmaceuticals, and Insys Therapeutics as defendants. The claim alleges that these opioid manufacturers targeted veterans with chronic pain due to their specific susceptibility to opiate dependency.
Pharmaceutical Companies Preyed on Veterans' Underlying Issues
Sixty percent of veterans who fought in the Middle East and 50 percent of older veterans have chronic pain. Veterans with chronic pain have much higher rates of compounding conditions like post-traumatic stress and traumatic pain injury. These conditions contribute significantly to pain-management challenges. Furthermore, their pain is generally connected to traumatic events. This trauma can affect one's ability to cope with physical discomfort and manage pain. If the trauma is not well-managed, then chemical dependency can become an issue.
"The opioids help ameliorate that anxiety," Dr. Peter Abaci, the medical director of Bay Area Pain and Wellness Center in Los Gatos, Calif., and author of Conquer Your Chronic Pain: A Life-Changing Drug-Free Approach for Relief, Recovery, and Restoration said. "It takes over everything – the decision making and how they feel – and they latch onto that. It's the only thing to calm them down, and they can potentially develop addiction from there."
Consequently, it's imperative to treat also these underlying conditions before addiction can take hold. However, VA medical centers often don't have the resources to bring in counselors, psychologists, dieticians, physical therapists, and other professionals to supplement patients' treatment protocol. Pharmaceutical companies were more than happy to exploit this, swooping in with a solution that saved the VA tons of time and money, while endangering millions of those injured while defending our country. Opioid manufacturers knew that there was a tendency towards chemical dependency if veterans' underlying issues remained untreated while taking these highly addictive pain medications. And, these reprehensible companies squeezed every dollar they could out of it. Now, exploited veterans will get a chance to squeeze back. After all these heroes have sacrificed, they deserved far better and hopefully they'll get it.