By Emily Cox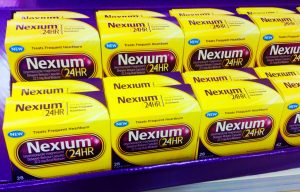 A new lawsuit alleges that the drug manufacturer, AstraZenca, concealed considerable Nexium kidney injury risks to further its own financial agenda while putting patients at considerable risk to the detriment of many of them.
Clarice Armstrong filed the complaint September 22 in the District of New Jersey. Armstrong alleges that AstraZenca actively hid significant Nexium kidney risks from consumers and the medical community. Consequently, neither she nor her physician knew that the prescription was putting her life at serious risk. Due to AstraZenca's greed and negligence, Armstrong's life will never be the same.
"As a direct result of ingesting PPIs, Plaintiff has been permanently and severely injured, having suffered serious consequences from PPI use," the complaint states.  "Plaintiff requires and will in the future require ongoing medical care and treatment."
"Plaintiff, as a direct and proximate result of PPI use, suffered severe mental and physical pain and suffering and has and will sustain permanent injuries and emotional distress, along with economic loss due to medical expenses, and living related expenses due to her new lifestyle," the lawsuit continues.
Armstrong contends that the drug maker knew about the Nexium kidney injury and end stage renal failure risks. However, the company "deliberately failed to remedy known defects" and warn the public in order to maximize profits despite the "extreme risk of injury." The claim points to several proton pump inhibitor (PPI) studies that show AstraZenca knowingly exposed people to serious danger to line its already fat pockets.
In October 1992, three years after initial FDA PPI approval, University of Arizona Health Sciences Center researches published the first article connecting PPI use with kidney injuries in The American Journal of Medicine. Decades of reports from national adverse drug registries and other studies affirming this association make this connection undeniable.
Nexium Kidney Injury Studies
Nexium (esomeprazole) is among the most popular PPIs on the market. Millions of Americans take the medication to treat heartburn and acid reflux. However, other blockbuster PPIs include Prilosec, Protonix, Prevacid, and Dexilant among countless other seemingly benign medications for mild conditions. However, studies have found these drugs carry far more serious risks than the conditions they treat.
In April 2015, CMAJ Open published an independent study. Study researchers found that PPI users were three times more likely to develop acute interstitial nephritis (AIN). AIN is kidney inflammation that can result in serious complications. Researchers also found that users were 2.5 times more likely to suffer acute kidney injury. This involves the abrupt loss of kidney function.
In February 2016, JAMA Internal Medicine published a study that found that PPIs carried a substantial risk of chronic kidney disease (CKD). The study indicated that PPI users may be 50 percent more likely to develop the condition than non-users.
In April 2016, Department of Veterans Affairs researchers found that PPI users could be 96 percent more likely to develop renal failure and 28 percent more likely to develop CKD after five years of use.
The PPI Empire
AstraZenca and other PPI manufacturers promote their medications as safe and effective with few serious side effects. Consequently, many people take the drugs long-term, using them for years without attempting to reduce reliance… or dosage, making them exceptionally valuable to the market's bottom line. PPI makers may have disregarded their core customers' health and lives. But, they have worked very hard to keep them loyal by actively hiding risks.
To be sure, PPI manufacturers could give billions of reasons for concealing the life-threatening risks lurking behind their drugs. PPIs are one of the most commercially successful groups of medications in the U.S. According to Armstrong's lawsuit, between 2008 and 2013, prescription PPIs had sales of over $50 billion dollars. And, the weight of these profits has crushed the lives of countless people.
Armstrong joins a growing number of people trying to take PPI manufacturers to task over their unbridled greed. In August, the Judicial Panel on Multidistrict Litigation (JPML) consolidated all Nexium kidney injury lawsuits along with similar PPI lawsuits in New Jersey federal court for pretrial proceedings. Hopefully, if enough individuals stand against these companies, the PPI empire will start protecting its most important denizens – its consumers – instead of its profits.