By Emily Cox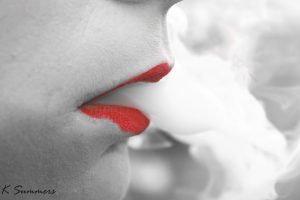 The FDA issued a historic ultimatum Wednesday to crack down on e-cigarette use among minors, sending out more than 1,300 warning letters and fines to retailers who sold to underage customers and giving five e-cig manufacturers 60 days to develop adequate plans to keep their products out of the hands of children.
The actions are in response to a nationwide undercover investigation of physical and online stores over this summer into what the FDA is calling an "epidemic" of minors using e-cig products. According to a statement the agency released Wednesday, products from Vuse, Blu, Juul, MarkTen XL, and Logic accounted for the vast majority of illegal sales. The five manufacturers account for 97 percent of the U.S. e-cig market.
Part of the measure's focus is on e-liquids that have designs and flavors that are inherently appealing to children, like candy or cookies. The FDA indicated that it will monitor and take immediate action against companies that continue to sell nicotine and tobacco products that could be appealing to children. The FDA has looked to e-cigarettes as a way to help adults stop smoking. However, FDA Commissioner Scott Gottlieb said that the agency didn't expect the widespread teen use.
"We didn't foresee the extent of what's now become one of our biggest challenges," Gottlieb said in a statement. "We didn't predict what I now believe is an epidemic of e-cigarette use among teenagers."
The FDA indicates e-cigarettes are the most commonly used tobacco product among minors during the past several years. More than 2 million middle and high school students used e-cigarettes within the past year.
FDA Warns E-Cig Makers to Change Policies
In its letters to the five manufacturers, the FDA put the companies on notice that they had 60 days to submit plans to address youth access and use of their products. The regulatory body suggested that these plans may include: stopping sales to retailers that the FDA fined for selling to minors; eliminating online sales or providing evidence that these sales aren't going to minors; revising marketing practices; developing or improving internal programs to monitor retailers; or removing flavored products from the market pending FDA authorization.
Should the companies fail to comply, the FDA said it will consider revisiting its current policy that allows the products to remain on store shelves without a marketing order.
This effort is part of measures the FDA announced in July 2017 to make cigarettes less addictive, while encouraging the development of products that deliver nicotine in less harmful ways.
"Smoking remains the number one preventable cause of death in America, killing nearly half a million people a year," Gottlieb said. "If we aren't successful in more sharply reducing the rate of addiction to tobacco, then we'll continue to see this needless death and disease."
Gottlieb went on to say that e-cigarettes represent an opportunity for smokers to move away from smoking traditional combustible cigarettes, attributing the harmful effects of cigarettes to burning them. However, he did warn that nicotine itself is harmful, especially to children whose brains are still developing, saying that the FDA still needs a stronger regulatory process for e-cigarettes.
E-Cig Company Response
CEO for JUUL Labs Kevin Burns said the company intends to work proactively with the FDA regarding its request and remains committed to preventing minors from accessing its products.
"Our mission is to improve the lives of adult smokers by providing them with a true alternative to combustible cigarettes," he said. "Appropriate flavors play an important role in helping adult smokers switch. By working together, we believe we can help adult smokers while preventing access to minors, and we will continue to engage with the FDA to fulfill our mission."
Blu manufacturer Fontem Ventures released a statement, indicating the company supports the FDA's initiative to keep e-cigs out of the hands of minors, adding that it also welcomes the opportunity to demonstrate its youth access prevention policies. These include an online verification process that monitors transactions for fraudulent activity and post-market surveillance.
A Logic spokesperson said the company received the FDA's request and will continue working with the agency to prove it only markets its products to adults.