By Emily Cox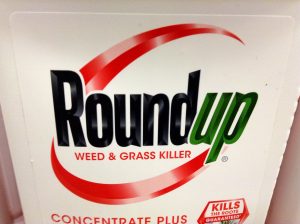 On the heels of the European Union approving the use of the controversial weed killer glyphosate for the next five years, individuals continue to surge forward with claims that the herbicide causes non-Hodgkins lymphoma.
Patricia Lashock filed the most recent of these claims Thursday, claiming severe and permanent harm from the weed killer. She alleges that she developed non-Hodgkins lymphoma after using glyphosate-containing products, including the Roundup, from 1977 to 2010. Lashock joins hundreds of other individuals asserting that Monsanto falsified scientific studies and colluded with worldwide regulators to hide glyphosate's substantial health risks. Furthermore, internal Monsanto documents indicate that the manufacturer knew Roundup could cause cancer and non-Hodgkins lymphoma.
"If somebody came to me and said they wanted to test Roundup I know how I would react – with serious concern," a Monsanto scientist confided in a 2001 internal email.
Glyphosate is the primary ingredient in Roundup and the best-selling herbicide in the world. However, this should come as no surprise. Monsanto essentially owns the global seed market. It has made sure that the majority of its seeds are glyphosate dependent, making worldwide agriculture Monsanto dependent.
Consequently, despite substantial indications that glyphosate causes non-Hodgkins lymphoma and even an official carcinogenic classification from the World Health Organization, the EU bowed to this dependency this past week when it voted to extend its authorization for glyphosate for an abbreviated five-year period. However, the deliberations over the extension were unusually lengthy and combative. Monsanto's tainting of glyphosate scientific reviews with its meddling was a particular point of contention.
France led the opposition to allowing the use of glyphosate to continue. French President Emmanuel Macron announced after the vote that he had requested government officials to come up with a plan to ban the herbicide in his country within three years.
Round-up Non-Hodgkins Lymphoma Federal Litigation
Lashock's case will join hundreds of other similar cases pending in the federal multidistrict litigation (MDL).  In October 2016, the Judicial Panel on Multidistrict Litigation (JPML) consolidated all Roundup non-Hodgkins lymphoma lawsuits. Judge Vince Chhabria is presiding over the litigation in the Northern District of California. Due the complexity of the litigation and number of plaintiffs, the panel felt that judicial efficiency would be best served through centralization. This reduces duplicate discovery and conflicting rulings that can further bog down these already complicated proceedings.
Judge Chhabria previously agreed to Monsanto's proposal to bifurcate the federal Roundup litigation. Consequently, the court will first address issues of general causation over the link between Roundup and non-Hodgkins lymphoma. Expert testimony for this portion of the pretrial process begins March 5, 2018. The court will then move on to case-specific issues to determine if Roundup caused the cancer of specific plaintiffs. As a result, it is possible that the first state court trials will begin ahead of the federal trials.