By Emily Cox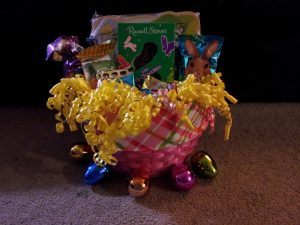 Target toy recall due to serious health risks affects toys that could potentially be in hundreds of thousands of Easter baskets tomorrow.
The U.S Consumer Product Safety Commission (CPSC) announced the toy recall Thursday. It impacts more than 500,000 water-absorbing toys sold by Target across the country. These products include Easter eggs, Easter grow toys, and dinosaur toys.
No one has reported any injuries or incidents in relation to the recall. However, if swallowed, these expandable toys can be life-threatening. They could potentially cause internal obstructions, vomiting, dehydration, and other serious complications. Furthermore, the CPSC warns that removing the toys from the body would most likely require surgery.
Hatch & Grow Easter Eggs, Easter Grow Toys, and the Hatch Your Own Dino toys all expand several times their initial size upon contact with water.
Both Easter toys have the model number 234-25-1200. It is located on the back of the packaging. The dinosaur toys' model number 234-09-0016 can be found on a label inside the product's packaging.
The Hatch & Grow Easter egg comes in pink, blue, or purple. They include a butterfly or a bunny. The Easter Grow toys have a bunny or yellow chick. The Hatch Your Own Dino Eggs are purple or yellow/green. The recalled product line features 11 different dinosaurs.
Target sold the Easter and dinosaur toys in February and March 2017 for $1. Target sold more than 560,000 toys during this time. China manufactured the toys.
Consumers who purchased these toys should return them to Target for a full refund. They can also contact Target at (800) 440-0680 for more information about recall.
Expanding Toy Recall
Expanding toy ingestion has been a growing concern for several years. In December 2012, the CPSC issued a similar expanding toy recall after an 8-month girl ate Dunecraft Water Balz, requiring emergency surgery to remove the expanding toy from her intestines. Consequently, the agency warns that the Easter and dinosaur egg water toys pose the same threat to children.