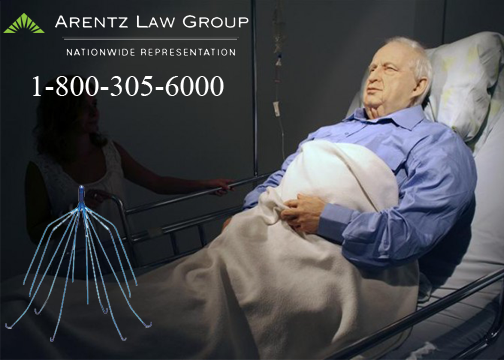 Bard IVC Filter Lawyers
If you or a loved one have been injured by a Bard IVC Filter, you may be eligible for compensation. For a free legal consultation, please fill out the form to the right or contact us directly at 1-800-305-6000.

Bard IVC filter lawyers at Arentz Law Group, P.C. are currently reviewing defective products lawsuits on behalf of individuals who have suffered severe injury or the loss of a loved one as a result of faulty Bard IVC filters.  Unfortunately, Bard IVC filters have proven to demonstrate a high rate of failure, leading to serious injuries and, in some cases, death.  If you or someone you love has suffered harm after implantation with a Bard IVC filter, lawyers at our firm are prepared to represent your best interests and help you recover full compensation for your physical, emotional, and financial damages.  Contact us today to schedule a free case evaluation.
What is an IVC Filter?
Bard IVC (inferior vena cava) filters, including Recovery and G2 filters, are implanted in patients who are immobilized or who are not able to take anticoagulant medications.  They help to filter the blood, preventing blood clots from moving through the body and causing a pulmonary embolism.  These devices are cone-shaped, with legs that extend to intercept and trap blood clots.  Candidates for implantation with Bard IVC filters have a history of blood clots, have been diagnosed with deep vein thrombosis, are victims of trauma, are immobilized, or have recently had surgery. In the video below, Dr. Frank Lynch, Professor of Radiology, Surgery, and Medicine at Penn State Hershey Medical Center discusses some of the history, advantages and disadvantages of IVC filters.
Bard Recovery and G2 IVC Filter Problems
The Bard Recovery IVC filter was introduced in April 2003, and after a number of reports of broken filters, Bard introduced a redesigned version of the Recovery, the Bard G2 IVC filter, in October 2005.  The G2 was designed to be more fracture-resistant than the Recovery, but this device has also now been the subject of several reports of IVC filter migration and fracture.  When an IVC filter fractures, small shards can travel to the heart, the liver, other organs, or become released into the veins.  Some injuries reported in patients who have experienced Bard IVC filter fracture include:
Cardiac tamponade (a disruption of the heart caused by excess fluid)
Heart perforation
Hemorrhagic pericardial effusion (blood around the heart)
Lung perforation
Tissue perforation
Vena cava perforation
Ventricular tachycardia (accelerated heartbeat)
In an Archives of Internal Medicine study, the progress of 80 patients who received a Bard IVC filter (either Recovery or G2) between 2004 and 2009 at a New York hospital was monitored.  Of the patients studied, at least 13 experienced IVC filter fracture.  7 of these patients had been implanted with the Bard Recovery IVC filter.  Of these 7 patients, 5 had pieces of a fractured filter travel to the heart, leading to rapid pulse rates, buildup of fluid, and the death of one patient.  52 of the patients studied had the Bard G2 filter, and 6 of those patients suffered filter fractures, some of them traveling to the liver and others reaching the lungs.
Based on the results of this study, researchers concluded that 16% of patients studied experienced IVC filter fracture.  Of the patients who experienced filter fracture, about 71% had a piece of a filter make its way to the heart, while others experienced filter migration to the liver and within the veins.
With the redesign of the Recovery achieved by the G2 IVC filter, the overall incidence of device fracture did go down with less than 1% of patients effected according to a study published in the Journal of Vascular Interventional Radiology in 2014. However, researchers noted that the number of device fractures climbed quickly with 38% of patients impacted within 5 years.
Cook IVC Filters
Cook Medical also manufactures a range of IVC filters including the Celect and Gunther Tulip. The Celect IVC filter has been found in some studies to be particularly difficult to retrieve. Cook IVC filters operate in a manner similar to those designed by Bard, utilizing tendrils of metal they prevent blood clots from leaving the leg in cases of deep vein thrombosis, thereby preventing a pulmonary embolism in the lungs. Doctors tend to champion the devices when anticoagulant drugs are ineffective or deemed too risky.
Cook IVC Filters have manifested safety concerns identical to those created by Bard products, and in an April 2012 study published in the journal Cardiovascular Interventional Radiology, every patient impanted with a Cook Celect or Gunther Tulip IVC filter had an injury caused by the devices within 71 days of implantation. JAMA Internal Medicine considered the efficacy of IVC filters to hardly warrant the risk. A study published in the journal in March 2013 found that fewer than 10% of IVC filters would be removed as intended, and 8% of patients developed a pulmonary embolism regardless of the device being there.
Contact our IVC Filter Lawyers
A number of individuals who have suffered injury or the loss of a loved one as a result of Bard IVC filter fracture have opted to file a dangerous medical device lawsuit against C.R. Bard, claiming that Bard was well aware of the dangers posed by their IVC filters, but that they continued to make and market their these devices without sufficient safety warnings, putting profit over patient safety.  If you or a loved one has suffered as a result of a fractured Bard IVC filter, you may be entitled to significant compensation for damages such as lost wages, medical care costs, and pain and suffering.  The first step is to become educated.  Learn more about your rights and how we can protect them: contact our Bard IVC filter lawyers today to schedule a free legal consultation.