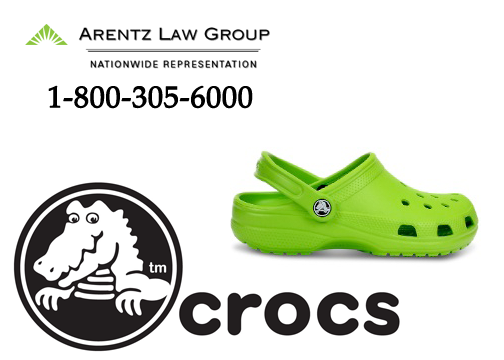 Crocs lawsuit attorneys at Arentz Law Group, P.C. have become aware of a number of cases where children suffered serious foot injuries after their Crocs became caught in escalators.  Over the last few years, Crocs sales have skyrocketed as these shoes gain popularity amongst adults and children alike.  Crocs are made of a foam resin called Croslite and have ventilation holes that make them lightweight and comfortable.  Children especially are attracted to Crocs because they can be purchased in more than 20 vibrant colors and a variety of styles, though Crocs clogs are by far the most popular.  A number of children have suffered serious injuries when their Crocs became entangled in escalator mechanisms, and multiple families have filed Crocs lawsuits in pursuit of compensation for damages caused by Crocs injuries.  If your child sustained moderate to severe foot injuries after his or her Crocs got caught in an escalator, you could be entitled to financial compensation in a defective products lawsuit.
Crocs Escalator Injuries
Bright colors, durability, and comfort have made Crocs shoes very popular with children.  In 2005, Crocs, Inc. purchased Jibbitz, a company that makes decorative attachments or charms that children can use to personalize their Crocs, making these shoes even more popular with young consumers.  However, reports of children's Crocs becoming stuck in escalators began to circulate as early as 2006.  From February 2008 to July 2009, Crocs, Inc. became the defendant in at least 11 lawsuits brought by parents of children who suffered injury after their Crocs became tangled in escalators.  The company quickly settled these cases out of court and added warnings about escalator safety to their packaging, but the number of injuries due to Crocs escalator accidents continues to grow.
Contact a Crocs Lawyer
In product liability lawsuits, consumers injured by Crocs escalator accidents are eligible to recover substantial compensation for physical, emotional, and financial damages.  If a child in your life suffered foot, ankle, or leg injuries as a result of his or her Crocs becoming stuck in an escalator, we can defend your rights until you recover the full compensation to which you are entitled.  To learn more about Crocs lawsuits, contact an experienced product liability lawyer today to schedule a free consultation.