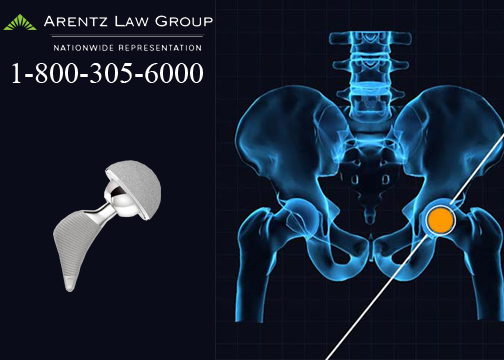 DePuy Hip Lawyers
If you or a loved one have been injured by a DePuy or any other brand of hip implant, you may be eligible for compensation. For a free legal consultation, please fill out the form to the right or contact us directly at 1-800-305-6000.

The DePuy hip lawyers at Arentz Law Group, P.C. have years of experience in defective products litigation, and we have the resources and experience victims need to build a strong case after suffering injury from the DePuy ASR or DePuy Pinnacle hip.  Right now, we are in the process of pursuing a number of claims where innocent patients suffered debilitating pain, injury, hip implant revision surgery, or metallosis as a result of the metal-on-metal construction of these artificial hip systems.  If you or someone you love has incurred harm after implantation with a faulty DePuy Pinnacle or DePuy ASR hip, you may be entitled to significant compensation in a dangerous medical device lawsuit.  For more information on DePuy lawsuits and how we can protect your rights, contact the DePuy hip lawyers at Arentz Law Group, P.C. today to schedule a free case evaluation.
DePuy ASR Hip Recall and Problems
A high rate of failure in DePuy ASR hip implants led to an FDA recall of these medical devices in July 2010.  Faulty design can be blamed for the majority of DePuy ASR hip implant problems, as the shallow nature of the hip replacement cup can prevent proper attachment to the bone and can cause loosening of the hip implant.  Many patients who experience loosening of their DePuy ASR hip have had to undergo painful and expensive hip replacement revision surgery.
The metal-on-metal construction of the DePuy ASR hip has also led to a number of injuries and problems and was a contributing factor to the recall of this potentially dangerous medical device.  When friction occurs between the metal components of this artificial joint, small shards of metal can be released into the blood stream, which can cause a very serious form of metal poisoning known as metallosis.  Metallosis can lead to:
Pseudo-tumors
Pain
Implant making noise
Loosening of the implant
Inflammation
Fretting and corrosion of the implant components
Fluid accumulation in the hip joint
Decreased lymphocyte and CD8+T cells which fight infections and pathogens
Changes to the DNA
Broken bones
Bone dissolution (osteolysis)
Bone and tissue death (necrosis)
Allergic reactions
DePuy Pinnacle Hip Problems
To date, no recall has been issued for the DePuy Pinnacle hip system, but the maker of this device, Johnson & Johnson, has received many complaints of injury and /or revision surgery due to this device.  Like the ASR hip system, the Pinnacle is made from a metal-on-metal construction, and friction can cause high levels of chromium and cobalt to enter the blood stream and metallosis.  In addition to metallosis, patients who have been injured by the DePuy Pinnacle hip have also reported:
Pain
Difficulty standing
Difficulty walking
Implant loosening
Clicking or popping noises coming from the implant
DePuy Pinnacle hip implant failure leading to revision surgery
Contact our DePuy Hip Lawyers
If you were implanted with a replacement hip system after 2003, there is a chance you have a DePuy ASR or Pinnacle hip which could prove to be defective.  You may consider asking your doctor which type of implant you were fitted with, and if you do have a DePuy hip you may also want to learn more about your legal options.  Victims who suffer injury after implantation with a DePuy hip are entitled to compensation for their physical, emotional, and financial damages.  For more information about faulty DePuy Pinnacle and ASR hips and victims' rights, contact the DePuy hip lawyers at Arentz Law Group, P.C. today to schedule a free and informative legal consultation.