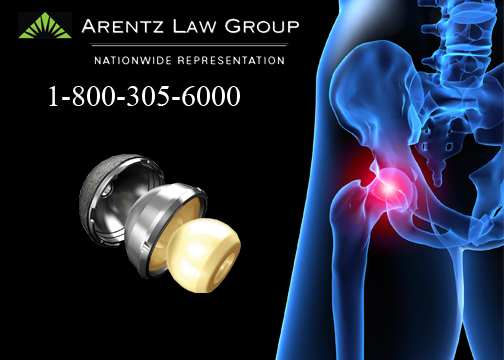 If you or a loved one have been injured by a Stryker or any other brand of hip implant, you may be eligible for compensation. For a free legal consultation, please fill out the form to the right or contact us directly at 1-800-305-6000.
The Stryker hip lawyers at Arentz Law Group, P.C. are currently working with individuals who have suffered injury and debilitating pain after implantation with defective Stryker Rejuvenate and ABG II Modular hips.  As a result of a faulty metal-on-metal design, these two models of Stryker hip joints have been recalled, preventing future injuries.  However, this does not help the thousands of patients who have already suffered or have undergone (or will need to undergo) hip replacement revision surgery.  At Arentz Law Group, P.C., our defective products and Stryker hip lawyers are dedicated to protecting the rights of our clients and ensuring that they recover full compensation after they suffer harm as a result of another party's negligence.  If you or someone you love has suffered after implantation with a Stryker Rejuvenate or ABG II hip, we are ready to help you.  Contact us today to schedule a free case evaluation.
Stryker ABG II Design Flaws and Injuries
When the Stryker ABG II Modular Hip system was approved by the FDA in 2008, it had a number of features which surgeons believed made it superior to earlier hip replacement systems. Unlike other hips, the Stryker ABG II was modular, so surgeons are able to customize the artificial hip to fit each patient's body. In addition to its modular nature, the ABG II hip was also believed to be safer than earlier hip systems because it was mainly composed of plastic-on-ceramic components, unlike other hips whose metal-on-metal constructions were known to cause injuries. However, metal-on-metal contact still existed in the neck joint of the Stryker ABG II hip, and it is this part of the hip system that has been to blame for the vast majority of injuries and hip implant failures attributed to this device.
When metal components of the Stryker ABG II Modular Hip system come into contact with one another, the friction between them can lead to fretting and corrosion, releasing tiny shards of chromium and cobalt into the blood stream. This can cause a number of painful and debilitating problems, such as:
Pain

Infection

Metallosis (metal poisoning)

Pseudo-tumors

Immobility

Changes in gait

Death of tissue and bone

Bone loss

Hip implant revision surgery
Stryker Hip Injuries
In addition to metallosis, recipients of faulty Stryker hips have reported the following injuries:
Allergic reactions

Bone and tissue death (necrosis)

Bone dissolution (osteolysis)

Broken bones

Changes to the DNA

Decreased lymphocyte and CD8+T cells which fight infections and pathogens

Fluid accumulation in the hip joint

Fretting and corrosion of the implant components

Inflammation

Loosening of the implant

Noise from the implant

Pain

Pseudo-tumors
Based on too many reports of serious injury and revision surgery, Stryker voluntarily recalled both the Rejuvenate and the ABG II Modular Hip systems in July 2012.  In the notice that accompanies the recall, Stryker admits that design flaws in these medical devices can lead to "fretting and/or corrosion at or about the modular-neck junction…may result in adverse local tissue reactions manifesting with pain and/or swelling."  The Stryker hips were also recalled in Canada in May 2012.
Free Stryker ABG II Lawsuit Consultations
Experts attribute most of the injuries and problems patients have suffered after implantation with the Stryker ABG II Modular Hip system to the flawed design of the metal-on-metal neck joint. Because of this, individuals who have suffered pain or hip implant revision surgery due to the Stryker ABG II are eligible to pursue compensation for their medical bills and other damages in Stryker hip lawsuits. If you would like to learn more about your potential right to compensation in a Stryker ABG II lawsuit, we invite you to contact us to schedule a free consultation with an experienced defective products attorney.