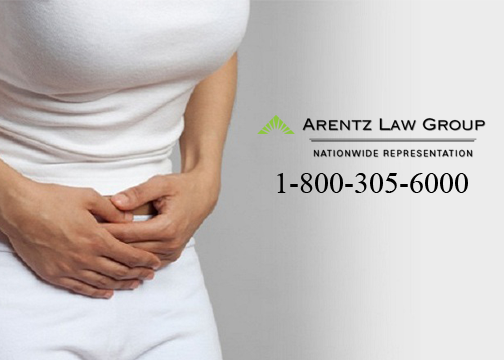 Transvaginal Mesh Lawyers
If you or a loved one have been injured by any type of vaginal mesh product, you may be eligible for compensation. For a free legal consultation, please fill out the form to the right or contact us directly at 1-800-305-6000.

Transvaginal mesh lawyers from Arentz Law Group, P.C. are currently meeting with women who are hurt and outraged after suffering serious injury or disfigurement after being implanted with vaginal mesh to treat pelvic organ prolapse and stress urinary incontinence.  Transvaginal mesh, also referred to as vaginal mesh, bladder sling, or pelvic mesh, has been found to cause serious injury, and a number of women who have suffered as a result of this dangerous medical device have opted to file dangerous product lawsuits in pursuit of compensation for their damages.  If you have suffered after surgery with transvaginal mesh, you, too, could be entitled to substantial compensation.  Contact our transvaginal mesh lawyers, serving victims nationwide, today to schedule a free case evaluation.
Vaginal Mesh Problems
Experts at the World Health Organization 3rd International Consultation on Incontinence in 2004 reported an intolerably high rate of vaginal mesh injuries and complications.  In 2011, the FDA issued a transvaginal mesh warning, alerting doctors to the high risks linked to the use of this product.  The FDA warning goes on to state that there is no benefit of using vaginal mesh over other surgical treatments for pelvic organ prolapse.
Our transvaginal mesh lawyers firmly believe that far too many women have endured serious injury and severe pain after surgery with pelvic mesh.  The long list of potential vaginal mesh injuries includes:
Pain
Granuloma formation
Fistula formation
Pelvic organ prolapse recurrence
Excessive scarification and disfigurement
Painful urination
Vaginal mesh erosion into the vagina or other organs
Vaginal mesh shrinkage or contraction
Painful intimacy
Vaginal mesh migration
Incontinence
Infection
Transvaginal Mesh Lawsuits
Although the FDA has posted warnings regarding the high rate of complication with vaginal mesh, this product continues to be manufactured by a number of medical device makers.  Our transvaginal mesh lawyers believe that these transvaginal mesh manufacturers, including C.R. Bard, Boston Scientific, American Medical Systems, and Ethicon (a division of Johnson & Johnson), have exercised negligence in continuing to make and promote unsafe products, and we are currently pursuing lawsuits on behalf of vaginal mesh victims.  Pelvic mesh products that have been the basis for dangerous medical device lawsuits include:
AMS Apogee Vault Suspension System
AMS Elevate Prolapse Repair System
AMS Monarc Sling System
AMS Perigee System
AMS Sparc Sling System
Bard Avaulta Support System
Boston Scientific Pinnacle Pelvic Floor Repair Kit
Boston Scientific Uphold Vaginal Support System
Coviden IVS Tunneler Sling
Ethicon Gynecare Gynemesh
Ethicon Gynecare Prolene Soft Mesh
Ethicon Gynecare Prolift Pelvic Floor Repair System
Ethicon Gynecare TVT Transvaginal Sling
UGYTEX Dual Knit Mesh
Contact our Transvaginal Mesh Lawyers
If you have experienced pain, infection, injury, incontinence, or other side effects after surgical implantation with pelvic mesh, our transvaginal mesh lawyers are ready to help you pursue full and just compensation for your injuries and physical, emotional, and financial damages.  In a vaginal mesh lawsuit, you may be able to recover compensation for your pain and suffering, medical bills, and other losses.  To learn more about how we can help protect your rights, contact a transvaginal mesh lawyer today to schedule a free and confidential evaluation of your case.