Arentz Law National Injury Lawyers are currently investigating claims that the DePuy Synthes Attune Knee Systems is prone to early failure. This early failure for many has resulted in the need for revision surgery. If you or someone you love has experienced pain or discomfort after receiving the knee replacement, you may be entitled to compensation. You don't pay unless we recover compensation for you. Call Arentz Law National Injury Lawyers today to speak with an experienced knee replacement lawsuit attorney.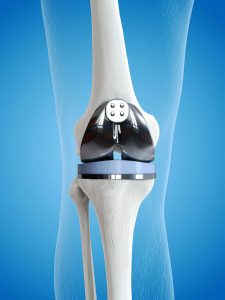 DePuy Knee Replacement
The DePuy Knee replacement was introduced as the DePuy Attune Knee System in 2010 and approved by the FDA for revision knee replacement surgery. It is Engineered as a device that can properly restore the function of joints in the knee. While being marketed as one of the most advanced knee replacement systems on the market. Since then the FDA has received hundreds of complaints about the DePuy Attune Knee Replacement. Thousands of patients who have received these knee replacements have encountered premature failure of the device. This failure can cause the following symptoms:
Instability and loosening

Swelling in the knee

Infection

Inflammation

Bone or muscle damage

Decreased range and motion

Continuous pain
In plenty of cases, the only way to relieve patients who experience these symptoms is to undergo revision surgery. Revision surgery is the painful process of replacing the defective DePuy Knee Replacement with a new one.   
Reports of Knee Replacement Loosen and Fail
Shortly after the DePuy Attune Knee Replacement was approved by the FDA, they began receiving complaints. All of these many complaints culminated in a 2017 study published in the Journal of Knee Surgery. In this study, nine orthopedic surgeons claim they had discovered a "high rate of debonding of tibial implant-cement interface" in the DePuy knee replacement system, which potentially caused significant instability in patients.
Simply, this means that the orthopedic surgeons discovered that the glue is being used to bind the Attune Knee System is faulty. The glue may not adequately hold the device together or it deteriorated prematurely. As a result of the faulty glue, the Attune Knee System may loosen and destabilize the knee replacement from the tibia.
Reports submitted to the FDA's Manufacturer and User Facility Device Experience (MAUDE) database were reviewed by surgeons to reveal that 232 of the reports involve the DePuy attune knee replacement. In addition to the MAUDE report, authors of the 2017 study discovered that three separate hospital databases reported 15 cases of patients with tibial loosening leading to revision surgery.
According to the American Academy of Orthopaedic Surgeons and the Agency for Healthcare Research and Quality, the average lifespan of knee replacements is 15 years. Unfortunately, the 2017 study found that patients were experiencing complications from knee replacements within two years.
Can you file a DePuy Attune Knee Replacement Lawsuit?
According to drugwatch.com, more than 600,000 people in the U.S. undergo a partial or total knee operation each year, and that number is expected to grow to 3.48 million by 2030.
The doctor's intention is to work with patients in order to give them the best quality of life. Unfortunately, some patients are misdiagnosed. Some patients get a knee replacement without needing one, other patients are not properly evaluated for tibial loosening after knee replacement. Patients who have experienced adverse side effects due to a DePuy Attune Knee Replacement experience the following:
Instability in the knee when standing or placing weight on the affected area

The knee moving in unnatural directions, such as backward or sideways

Fluid buildup leading to inflammation and swelling

Constant throbbing pain

Warmth or heat in the knee that begins several months after surgery
If you have undergone surgery for a DePuy Attune Knee replacement and you experience any of the following symptoms contact our firm today. For a no-obligation consultation contact Arentz Law today.
Contact A DePuy Knee Replacement Lawsuit Attorney Today
The DePuy Knee Replacement system is marketed as a safe and reliable knee replacement, unfortunately, many patients have not had the luxury of that experience. DePuy has a responsibility to warn their patients of all the potential side effects associated with a knee replacement; no matter how rare those side effects are.  When they don't warn the public, then innocent people are harmed.
If you have had a DePuy Attune Knee Replacement and you have suffered side effects leading to revision surgery, you may be eligible to file a lawsuit. Your lawsuit will not only help you pay for medical expenses. It will raise awareness that Knee Replacements are not safe to be used. To get started call Arentz Law National Injury Lawyers at 1-800-305-6000, or fill out the contact form on this page.