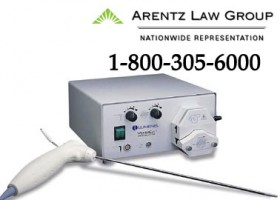 Fibroids
While the majority of the uterine fibroids are non-cancerous, there is still a risk to women who are having a hysterectomy performed with a morcellator.  It is estimated that 1 in 350 women have leiomyosarcomas in their uterus that have not shown any signs of cancerous growth.  In essence, they are lying dormant.  When the uterus is removed with a morcellator, the fibroids are chopped and the cancerous cells can be spread.  The result is that the sarcoma is "activated" and begins to spread quite rapidly.  Women who were never diagnosed with cancer have found themselves with an advanced stage cancer after having a hysterectomy performed with a morcellator.
Sarcomas
A sarcoma is a type of cancerous tumor that grows in a ball-like mass.
Soft Tissue Sarcomas generally develop in the legs, arms or abdomen.  In these areas the normal muscle or fat cells play host to the cancerous growths.
Myosarcoma is a sarcoma that forms on the muscle mass, specifically along smooth muscles.
Leiomyosarcoma is a sarcoma tumor that forms on the smooth muscles of the uterus.  This type of cancer is relatively rare, yet has a very high mortality rate.  One reason is that it is hard to detect.
Uterine Cancer
Uterine cancer is any malignant and abnormal growth of cells in the uterus.  It can consist of endometrial uterine cancer, where the uterus fails to shed all of the lining during menstruation, or it can be sarcoma uterine cancer, where there is abnormal growth on the smooth muscle cells.  Either way, paying attention to the signs and symptoms of uterine cancer can help to save the victim's life.
Hysterectomies and Myomectomies
There are several different ways a person can go about having these procedures done.  All get the job done, the difference is how invasive the surgery is, and which tools are used.