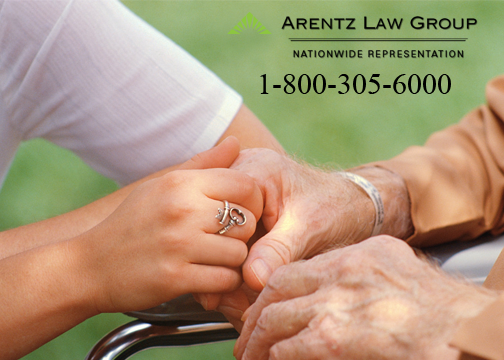 If you suspect your loved one of being mistreated while in a nursing home, you may be eligible for compensation. For a free legal consultation, please fill out the form to the right or contact us directly at 1-800-305-6000.
While there are federal and state laws designed to protect the rights and safety of residents of nursing homes and assisted living facilities, nursing home abuse is still a common occurrence in the United States.  If you suspect that your loved one may be the victim of nursing home neglect or abuse, you need to act quickly to make sure the abuse stops, that abusers are brought to justice, and that your loved one's future safety is secured.  At Arentz Law Group, P.C., our nursing home abuse lawyers have the experience and resources our clients need to determine whether abuse or neglect is an issue and to build a strong case so that victims recover just compensation for their damages.  We encourage you to contact us today to have your claim reviewed in a free and confidential consultation.
Learn About Nursing Home Abuse
There is absolutely no excuse for nursing home abuse, of course, but sometimes understanding factors that may have led to the abuse can bring a sense of comfort and closure to victims and their families.  One reason experts believe may be a contributing factor to nursing home abuse is that the number of people living in nursing homes has grown rapidly in recent years, and many institutions are having trouble finding enough well-trained individuals to help them care for patients.  Many nursing homes find themselves short-staffed and subject to a high turnover rate, making it difficult to retain good employees and provide sufficient training and supervision for newer workers.  What's more, wages for nursing home employees can be rather low, making it even more difficult to find highly qualified staff.
Understaffing can lead to a variety of issues at a nursing home.  Many staffers are forced to work longer hours, and employee burnout is an epidemic problem in this industry.  With the long hours and high level of stress that comes with working in a nursing homes and assisted care facilities, employees may vent their frustrations on patients and may also grow careless regarding routine tasks such as providing food and water on schedule, properly administering medications, and maintaining patient hygiene.
Low wages and a high turnover rate also mean that many nursing home staff members do not get the full training they should.  This can lead to abusive treatment when difficult patient situations arise.  What's more, the senior staff at many nursing homes is also often overworked and underpaid, so that newer workers may not have the training and supervision they should have.
Federal Nursing Home Laws
Congress passed the Nursing Home Reform Act in 1987, after studies and reports showed a shockingly high rate of nursing home abuse in the United States.  Every nursing home that participates in Medicare and Medicaid must comply with the standards set forth in this act in order to maintain federal funding.  The law states that nursing homes "must provide services and activities to attain or maintain the highest practicable physical, mental, and psychosocial well-being of each resident in accordance with a written plan of care."
Under federal nursing home regulations, nursing homes must meet the following standards:
Have enough nursing staff to meet patients' needs.

When a resident first comes to a nursing home, a comprehensive and accurate assessment of that resident's functional capacity must be conducted.

Each resident must be given a comprehensive care plan suited to their unique needs and abilities.

Prevent the deterioration of a resident's ability to communicate, eat, dress, groom, toilet, bathe, transfer and ambulate.

If a resident is not able to carry out daily living activities, necessary services to maintain nutrition, personal oral hygiene, and grooming must be provided.

Each resident must receive proper evaluation, treatment, and assistive devices to maintain vision and hearing abilities.

Prevent pressure sores (

bedsores

) or provide the necessary treatment to promote healing, prevent infection, and prevent the appearance of new sores.

If a resident is incontinent, treatment and services to restore as much bladder function as possible must be provided.

Residents must receive sufficient supervision and assistive devices to prevent accidents like

falls

.

Maintain proper

nutrition and hydration

for each resident.

Make sure residents do not suffer medication errors.

Promote quality of life for each resident.

Maintain each resident's dignity and respect.

Allow residents the ability to select activities, schedules, and health care.

Provide each resident with pharmaceutical services.

Each nursing home must be administrated in a manner to enable it to use resources efficiently and effectively.

Maintain for each resident clinical records that are accurate, complete, and easily accessible.
While these laws have gone a long way to facilitate proper care in our nursing homes, many states have adopted stricter laws regarding nursing home care.
Levels of Care
The legal definition of a nursing home is "a private institution that furnishes shelter, feeding and care for sick, aged, or infirm persons."  Depending on the type of facility you and your family have chosen, a nursing home might not necessarily be required to furnish medical services to residents.  
The federal government has established the following four categories for assisted living facilities:
Adult boarding services

Residential care facilities

Intermediate care facilities

Skilled nursing facilities
The order of these categories corresponds to the level of care offered by each facility.  An adult boarding service is limited mostly to room and board, while a skilled nursing facility offers the most medical services and is the most heavily regulated.
Rights of Nursing Home Residents
Regardless of the level of care into which you have placed your loved one, he or she has certain rights guaranteed under federal laws.  In 1987, Congress passed the Nursing Home Reform Act after studies showed a high incidence of nursing home abuse and neglect in this country.  This act is designed to ensure that all federally-funded nursing facilities provide a standard and quality of care needed to maintain the physical, mental, and social well-being of all residents.  Under the Nursing Home Reform Act, any violation of the standards detailed in the guidelines is a federal crime.  Each state also has laws to govern nursing homes and ensure proper care for residents.
Every nursing home facility is required to furnish residents with documentation of the procedures and measures they take regarding the prevention of nursing home abuse and neglect.  Residents must be informed of all services offered by their facility and the cost of each of these services.  They must also be given contact information for state offices and advocacy groups designed to ensure the safety of nursing home residents.  Accommodations must be made for patients who have sensory impairments or who speak a language other than English.
Nursing home residents also have rights regarding their medical care.  Residents must be granted access to their own medical records and must be allowed to participate in decisions regarding their treatment, including the right to refuse treatment.  If a resident is not mentally able to make these decisions, these rights are transferred to the next-of-kin or a person who has been granted power of attorney.
Contact a Nursing Home Abuse Lawyer
Nursing home residents are vulnerable members of our population, and there are stringent federal and state nursing home regulations in place to help protect our elderly loved ones.  Unfortunately, inadequate training, high rates of staff turnover, and understaffing at nursing homes all contribute to a high rate of neglect and abuse.  If you believe your loved one's nursing home has been remiss in the above-mentioned laws or if you suspect that your loved one has been neglected or abused in a nursing home, you need an experienced nursing home abuse lawyer to ensure justice is met.  Contact a nursing home abuse attorney today to learn more about your rights and potential compensation in a free nursing home abuse lawsuit consultation.