A growing num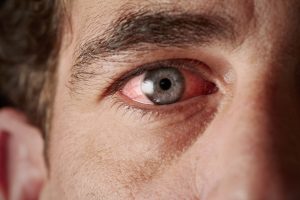 ber of patients are reporting serious Avastin silicone eye injection complications, including permanent blindness. However, the problem with Avastin isn't the drug itself. Rather, plaintiffs in the growing litigation are pointing to the delivery system as causing debilitating injuries.
Avastin (bevacizumab) is cancer drug that eye doctors have found effective at treating a number of eye diseases. These conditions include macular degeneration, diabetic retinopathy, diabetic macular edema, and retinal vein occlusion. However, the FDA has not approved the drug for eye diseases. Consequently, compounding facilities repackage Avastin into pre-filled eye injection syringes before passing them on pharmacies and physicians. These syringes are often not made for eye injections and lubricated with silicone oil. Sometimes, the silicone migrates away from the syringe and into the liquid Avastin. This silicone can get into the patient's eyes along with the drug, causing silicone "floaters" that look like air bubbles in the patient's eyes. These "floaters" can cause a permanent increase intraocular pressure (IOP), which requires additional treatments like ocular surgery to reduce or correct.
Untreated, increased IOP can eventually lead to a variety of sight complications, including:
Inflammation
Infection
Cataracts
Corneal damage
Retinal tearing
Retinal detachment
Glaucoma (increased pressure in the eye)
Hypotony (reduced pressure in the eye)
Vision loss
Permanent blindness
Avastin Eye Infections
The repackaging and additional handling of Avastin also dramatically increases bacterial contamination risks. As a result, patients in Florida and Tennessee experienced serious eye infections in 2011. Several of these patients lost their vision completely. And, one also even ended up brain damage when the infection spread to his brain. He is now in a vegetative state.
Consequently, Avastin patients need to be vigilant for symptoms of intraocular eye infections. These symptoms include:
Pain
Blurred vision
Eye "floaters"
Seeing spots
Discharge
Eyelid swelling
Redness
Avastin FDA Recalls and Warnings
The FDA has issued numerous safety warnings and recalls due to Avastin's eyes infection and blindness risks. But, countless people continue to experience debilitating injuries. So far, the agency has issued the following recalls and alerts:
March 20, 2013 – The FDA and Clinical Specialists recalled several lots of Avastin after receiving reports of eye infections from contaminated injections for macular degeneration.
August 30, 2011 – The FDA issued a recall of syringes from Walgreens' Chroniscript unit after they were linked to 16 eye infections in Tennessee and Florida. The agency also issued an eye injection warning.
September 1, 2011 – The FDA issued a safety alert after five people suffered eye infections after being treated at a VA medical center in Los Angeles.
The FDA has further cautioned:
"Health care professionals should be aware that repackaging sterile drugs without proper aseptic technique can compromise product sterility, potentially putting the patient at risk for microbial infections. Health care professionals should ensure that drug products are obtained from appropriate, reliable sources and properly administered."
Avastin and Compounding Pharmacies
The product liability claims against Avastin are not targeting the manufacturer, Genentech. Instead, injured patients are filing lawsuits against the compounding pharmacies that fill and repackage the syringes used for the injections. The FDA has limited oversight over these companies, because the agency shares regulatory authority with state pharmacy boards.
The safety of the medicines that these compounding pharmacies create came under fire after a devastating outbreak of fungal meningitis in 2012. The New England Compounding Pharmacy created the contaminated medicines. They caused more than 722 cases of spinal meningitis infections and at least 50 deaths.
Avastin Lawsuits
If you, or a loved one, received an Avastin eye injection and later experienced silicone "floaters," you may be eligible for substantial financial compensation against the compounding facility that may have mishandled the drug. But, your time to file a claim is limited, so it's important to act as soon as possible. To connect with a lawyer to better discuss your rights and ability to participate in a financial recovery please fill out the form on this page or call (800) 305-6000 for a free and confidential case evaluation.